Tim Wellens, a Belgium professional cyclist with the Lotto Soudal pro cycling team, doesn't think ashmatic athletes should be allowed to use inhalers. Wellens believes athletes who are not sufficiently healthy to compete without requiring asthma medications should just quit. There should be no therapeutic use exemptions – at least for asthmatics.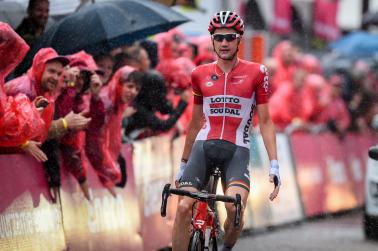 "As a professional rider, I have undergone several tests in hospital," Wellens said. "I sometimes feel some obstruction in my bronchi, and so I learned that with an inhaler, I could improve my breathing capacity by 7% or 8%. The doctors told me that I could use an inhaler, without any certification. But I'm against inhalers."
Wellens believes that too many cyclists are using asthma drugs solely for a performance-enhancement benefit in the absence of a genuine therapeutic necessity. WADA actually permits any athlete to use one of three type of asthma inhalers regardless of the actual therapeutic need and without a TUE. So athletes are doing nothing wrong even if they use inhalers without an asthma diagnosis.
The permitted asthma drug inhalers are Salbutamol, Formoterol and Salmeterol. WADA places certain restrictions of the use of this beta-2 adrenoreceptor agonists. Specifically, inhaled salbutamol is restricted to a maximum of 1600 microgram per 24 hour period not to exceed 800 micrograms per 12 hour period. Similar restrictions are placed on inhaled formoterol and salmeterol.
"I think that when you start using inhalers, afterwards you don't know how to live without them," said Wellens. "I refuse to be dependent on that kind of thing. I'm clearly against them but a lot of people use them. If the public knew the number of riders who have an inhaler, it's enormous."
Wellens has backed up his self-righteous anti-drug stance. Wellens reported breathing problems of his own during a race. Doctors told him that he could use inhalers to improve his breathing capacity by 7-8%. But Wellens refused to use inhalers and decided to withdraw from the 2017 Tour de France when he suffered asthma-like symptoms. He was hailed as a hero by anti-doping crusaders for doing so.
Wellens also revealed that his brother Yannick Wellens decided to quit cycling after he was diagnosed with exercise-induced asthma. Wellens has not decided to completely quit the sport himself but he will not hesitate to quit a race if he experiences significant breathing problems.
The World Anti-Doping Agency (WADA) list of Prohibited Substances includes all types of anabolic steroids, peptide hormones, stimulants and other performance-enhancing drugs (PEDs). But many of these drugs have legitimate medical uses. For athletes who legitimately require the use of these medications for their health and well-being, WADA provides therapeutic use exemptions (TUEs) that give athletes explicit permission to use otherwise banned drugs under certain circumstances.
The use of asthma inhalers has become a major issue ever since four-time Tour de France champion Chris Froome tested positive for excessive urinary levels of salbutamol during the 2017 Vuelta a Espana. Froome presumably exceeded the guidelines for inhaled salbutamol use after his urinary levels exceeded the allowed limit of 1000 nanograms per millilitre.
Froome has steadfastly denied using inhaled salbutamol in excess of the permitted levels. He has admitted increasing his dosage during a stage of the Vuelta a Espana upon the professional recommendation of the Team Sky doctor. Yet Froome insisted that the inhaled salbutamol did not exceed the maximum of 1600 microgram per 24 hour period or the maximum of 800 micrograms per 12 hour period. Consequently, Froome maintained that there was no anti-doping rules violation.
But none of that matters to Wellens who apparently considers any use of asthma inhalers a form of cheating.
Source:
Kelner, M. (January 11, 2018). Inhaler use is wrong, says cyclist who pulled out of Tour with breathing issues. Retrieved from amp.theguardian.com/sport/2018/jan/11/inhaler-use-is-cheating-says-cyclist-who-pulled-out-of-tour-with-breathing-issues