Dave Palumbo, the Editor-in-Chief of Rx Muscle and the CEO of Species Nutrition, sees similarities between himself and Tyler Baumann. Baumann used the internet persona of "Musclehead320" to market and sell anabolic steroids under the Onyx Pharmceuticals brand via social media websites like Instagram.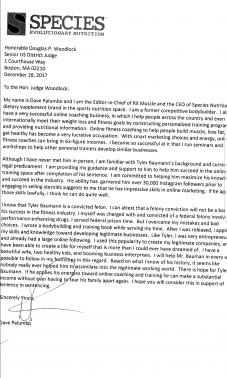 Like Baumann, Palumbo was also indicted for selling counterfeit performance-enhancing drugs (PEDs). Palumbo was caught selling fake human growth hormone (hGH) but truly had no idea it was fake. Baumann was caught selling real steroids but he fraudulently sold them under a trademark licensed to a legitimate pharmaceutical company thereby making them "counterfeit". And like Baumann, Palumbo "was very entrepreneurial with a large online following".
Palumbo turned his life around after his release from prison. He used his knowledge of the bodybuilding industry to create one of the most popular bodybuilding websites in the world, Rx Muscle. Palumbo thinks he can help Bauman achieve success in the same industry.
Palumbo never met Baumann but for some reason he was compelled to offer his assistance. Palumbo wrote a letter to Senior U.S. District Judge Douglas Woodlock on Baumann's behalf. Palumbo offered to take Baumann under his wing and help him transfer his steroid marketing and steroid trafficking skills into a legitimate career.
"I myself was charged with and convicted of a federal felony involving performance-enhancing drugs," wrote Palumbo. "I served federal prison time. But I overcame my mistakes and bad choices. I wrote a bodybuilding and training book while serving my time. After I was released, I applied my skills and knowledge toward developing legitimate businesses. Like Tyler, I was very entrepreneurial and already had a large online following. I used this popularity to create my legitimate companies, and have been able to create a life for myself that is more than I could ever have dreamed of."
Palumbo wrote that he is proof that a convicted felon can succeed in the fitness industry. For better or worse, convicted felons seem to be over-represented in the bodybuilding, fitness and sports nutrition industry compared to many other professions. One thing is certain according to Palumbo: "a felony conviction will not be a barrier to [Baumann's] success in the fitness industry".
Things are looking particularly grim for Baumann. Prosecutors are pushing Judge Woodlock to sentence Baumann to no less than 11+ years in prison. Baumann was primarily in charge of marketing and sales for the Onyx Pharma UGL. His partner, Philip Goodwin, was considered the brains behind the operation and received a prosecutor's recommendation of over 15 years in prison.
Unlike Palumbo, Baumann is considered a career criminal by the criminal justice system. Baumann already had multiple felony convictions before his involvement with Onyx Pharma. These felonies included cocaine trafficking, distribution of a class B controlled substance, assault and battery, and assault and battery on a police officer.
Baumann's attorney has persuasively argued for a prison term of only 5 years. Baumann has three young children under the age of 15. The mother of his two youngest children was also involved in Onyx Pharma and faces prison time as well.
Baumann will learn his fate at his sentencing trial on March 15, 2018.