The team behind the Future Pharma underground laboratory (UGL) was sentenced to serve time in federal prison. The sentences for the three co-conspirators were handed down by Chief U.S. District Judge W. Keith Watkins on February 1, 2018.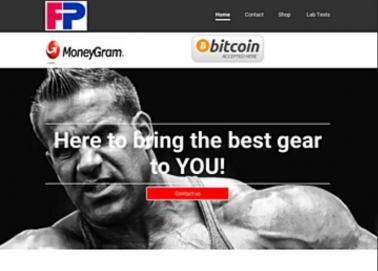 Ryan Sikora was sentenced to 41 months in prison as the leader of the Future Pharma steroid UGL. Ariel Murphy was sentenced to 12 months in prison. And John Joseph Bush II was sentenced to eight months in prison.
Sikora, Murphy and Bush pleaded guilty to federal conspiracy charges for importing, manufacturing, and distributing anabolic steroids and counterfeit prescription drugs in Montgomery, Alabama. The three Florida residents were indicted by a federal grand jury in September 2017.
Future Pharma was considered a Reddit source because it primarily advertised on Reddit's Steroid Source Talk. Reddit visitors were told to complete their purchases via the website futurepharmashop.com. The Future Pharma website offered a comprehensive selection of oral and injectable steroid at very inexpensive prices. For example, Future Pharma "Test-P" (100mg/ml testosterone propionate) was only $20 per 10-milliliter vial and Future Pharma "Tren-A" (100mg/ml trenbolone acetate) was only $35 per 10-milliliter vial. Oral steroid products were similarly inexpensive e.g. Dianabol (25mg/cap methandienone) at $50 per 60-capsule bottle and Anadrol (25mg/tab oxymetholone) at $15 per 30-tablet bottle.
Sikora tried to take steps to improve the operational security of the Florida-based Future Pharma operation. Sikora would have the raw steroid powder from China shipped to a hotel in the neighboring state of Alabama. Specifically, the Chinese steroid packages were addressed to Sikora at the Intown Suites in Dothan, Alabama.
Sikora would then transport the raw steroid powder to a mobile home trailer that was purchased specifically and exclusively as the underground laboratory facility to manufacture finished steroid products. Sikora, Murphy and Bush never kept any steroids at their respective residences.
However, these security precautions were not good enough to prevent law enforcement officers from discovering the mobile home full of steroids. And the amount of steroids uncovered was considerable. The seizure included 42,007 oral steroid pills, 3,023 ten-milliliter vials of injectable steroids and 1.12 kilograms of raw steroid powder. It also included 3214 Viagra pills and 4459.36 grams of raw sildenafil powder, 2849 Cialis pills and 893.01 grams of raw taladafil powders, 19,914 Accutane pills, and 9389 Clomid pills.
No matter what type of security precautions are taken, UGLs must still import raw steroid powder from China. The United States Postal Service intercepted at least four packages of steroid powder addressed to Sikora. An investigation linked another 34 similar shipments to Sikora. With this type of volume, it was likely only a matter of time before the police discovered the location of the clandestine lab.
Source:
DOJ. (February 2, 2018). Three Florida Residents Sentenced for Operating an Illegal Steroid and Counterfeit Prescription Drug Lab. Retrieved from justice.gov/usao-mdal/pr/three-florida-residents-sentenced-operating-illegal-steroid-and-counterfeit