Jeremy Stephens, a mixed martial arts (MMA) athlete who competes in the Featherweight Division for Ultimate Fight Championship (UFC), has called steroid users a "bunch of bitches" and "cheating pussies". Stephens couldn't be happier with the involvement of the United States Anti-Doping Agency (USADA) in MMA.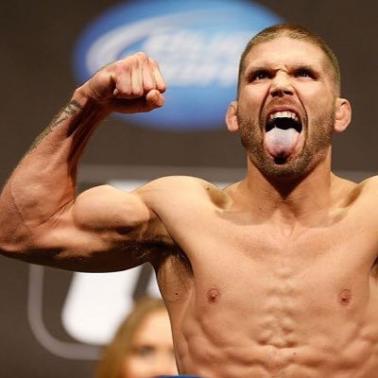 In an interview with FloCombat, Stephens sounds off with hatred for steroids and steroid users, praise for USADA and its "golden snitch" Jeff Novitzky, disgust for Anderson Silva and love for "real fighters" who choose to be natural.
"There's a lot of cheating pussies in this sport and they're getting exposed," Stephens said. "Look at their performances. Look at how things have changed since USADA came in. I love USADA. We keep real 100 percent natural, and if you're not in here to be a natural man and go in there and chase your natural dreams and do it the right way, then you're a bitch. To me, I don't give any credit."
The talent, hard-work and accomplishments of an MMA athlete no longer matter to Stephens if the fighter is exposed as a steroid user. Even legendary athletes like Anderson Silva are nothing to Stephens once they are busted with performance-enhancing drugs (PEDs). Silva may be widely considered to be one of the greatest MMA athletes in history by many fan but not by Stephens.
"People say, 'Oh, Anderson Silva,' no he cheated. He's out. I'll never look at that guy the same," Stephens said. "I used to look up to that guy. Now the fact that he's cheated and I know he's a known cheat, I totally discredit that. I can't agree with somebody who cheats when there are people on the sidelines who busted their asses and done it naturally and get paid less to do what they love to do while these cheaters took over the sport. It's not that I dislike Anderson. I'm a fan of his fight style, but the fact that you just cheated, it discredits everything that you did. All that shit was a lie basically."
Silva had competed as a professional MMA athlete for over 19 years and had never tested positive for steroids nor had he even been suspected of using steroids. But that all changed when Silva provided a urine sample at UFC 183 on January 31, 2015. The sample contained metabolites of drostanolone (Masteron) and methyltestosterone. Silva once again tested positive against for PEDs prior to a fight against Kelvin Gastelum at UFC Fight Night in Shanghai on November 15, 2017.
Stephens doesn't just hate steroid users in MMA. He hates steroid users in all sports. He hates steroid users in bodybuilding. He hates steroid users in the gym who never compete. He basically hates "anybody who takes steroids".
"I love the fact that real fighters are doing it the right way. They're natural and there's guys that are getting paid way less but they're doing it the right way. They're doing it naturally. Some of those guys are starting to shine now. Fuck steroids. Fuck anybody who takes steroids. They're all a bunch of bitches."
But if there is anyone that gives Stephens the warm fuzzies, it is UFC Vice President of Athlete Health and Performance Jeff Novitzky.
"What doesn't suck is now that USADA and the 'Golden Snitch' (Jeff Novitsky) like he put on the Joe Rogan show, he's busting these guys and I love it," Stephens said. "He's keeping it 100 percent real. It deserves to be all real and 100 percent natural."
Source:
Finley, D. (January 11, 2018). Jeremy Stephens: 'Lots Of Cheating P*ssies Are Getting Exposed'. Retrieved from flocombat.com/articles/6075914-jeremy-stephens-lots-of-cheating-pssies-are-getting-exposed