Just ask Nick Saccente what happened when he tried to pursue a career in coaching.
Nick Saccente tested positive for the use of the anabolic steroids testosterone and Equipoise arising from an in-competition sample collected at the 2016 USA Weightlifting University National Champion. The United States Anti-Doping Agency (USADA) suspended him for four years for his first-time anti-doping rule violation.ÂÂ ÂÂ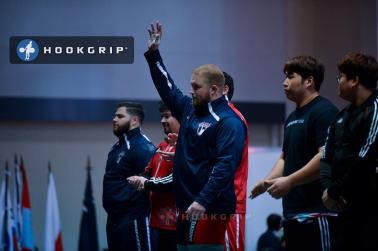 the meantime, Saccente has competed in other events that do not follow the rules set forth by the USADA and World Anti-Doping Agency (WADA). In addition, Saccente has also coached and trained athletes who compete in Olympic weightlifting.
USADA obviously was not too thrilled that Saccente was still able to compete in organizations that don't recognize USADA's anti-doping authority. But USADA could not do anything about that.
However, USADA could do something to stop Saccente from coaching other weightlifters who compete in organizations that are signatories to the WADA Code.
USADA does not want steroid-suspended athletes to coach other competitive athletes.
When USADA found out that an athlete coached by Saccente competed in a USA Weightlifting (USAW) sanctioned event, USADA moved quickly to penalize Saccente. After all, USAW is bound by USADA and WADA anti-doping rules.
Saccente was already suspended for his testosterone and Equipoise doping violation from September 25, 2016 until September 26, 2020.ÂÂ 
USADA cracked down on Saccente for "violating his period of ineligibility" by coaching another athlete. USADA increased his original 48-month suspension by 4-months to 52 months.
"While serving a period of ineligibility that prohibits Saccente from participating in any capacity, including coaching or serving as an athlete support person, in a competition or activity authorized or organized by a signatory to the World Anti-Doping Code (Code), Saccente went on to coach a USA Weightlifting (USAW) member during a USAW-sanctioned event on October 6, 2018."
In other words, Saccente can not coach or train or help any athlete who competes in an organization that is a signatory to the WADA code. If Saccente has any career aspirations as a coach or personal trainer, he can only work with non-competitive recreational athletes and athletes who compete in non-drug tested organizations.
These restrictions severely limit Saccente's options as a fitness professional. However, he still has options. For example, Saccente can switch over and start coaching powerlifters. There are many powerlifting organizations that explicitly refuse to recognize USADA and WADA anti-doping sanctions.ÂÂ 
For example, Saccente could compete in and coach athletes who compete in events organized by the United States Powerlifting Association (USPA). And there is nothing USADA can do to stop him. The USPA ignores any suspensions handed down by USADA.
Source:
USADA. (December 11, 2018). Weightlifting Athlete Nicholas Saccente Accepts Additional Sanction for Violating Period of Ineligibility. Retrieved from usada.org/nicholas-saccente-accepts-additional-sanction/