WADA Says Snitching Program Is Successful
The World Anti-Doping Agency (WADA) does not believe that the Brazilian Doping Control Laboratory (Laboratório Brasileiro de Controle de Dopagem or LBCD) can be trusted to do a good job providing accurate results for athletes competing at the 2016 Summer Olympics in Rio de Janiero. As of June 22, 2016, WADA has officially suspended the accreditation of LBCD. This leaves Brazil without an accredited anti-doping laboratory to oversee the Olympic's steroid testing.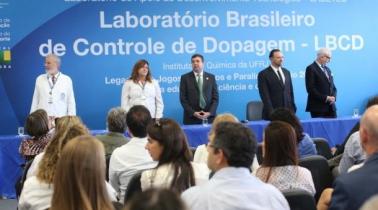 WADA cited LBCD's "non-conformity with the International Standard for Laboratories (ISL)" as the reason for revoking LBCD's accreditation. If LBCD does not quickly resolve its issues with the Olympics less than six weeks away, the International Olympic Committee (IOC) will be forced to transports thousands of urine and blood samples around the world to another accredited laboratory for testing.
The potential laboratories that are currently in WADA's good graces who could pick up the slack include the UCLA Olympic Analytical Laboratory and the Sports Medicine Research and Testing Laboratory (SMRTL) in the United States; the Laboratoire de Contrôle du Dopage INRS - Institut Armand-Frappier in Canada; and the Institute of Biochemistry - German Sport University Cologne in Germany. Obviously, the costs of transporting the samples around the world are exorbitant and will seriously strain the already limited anti-doping budget.
Olivier Niggli, Incoming Director General of WADA, did his best to put the world at ease by downplaying the significance of the LBCD suspension. Unfortunately, Niggli's attempt wasn't very persuasive given the addition of one more problem to the other serious problems Brazil is facing with the Olympics at hand.
"In the meantime, WADA will work closely with the Rio Laboratory to resolve the identified issue," said Niggli. "The Agency will ensure that, for the time being, samples that would have been intended for the Laboratory, will be transported securely, promptly and with a demonstrable chain of custody to another WADA-accredited laboratory worldwide. This will ensure that there are no gaps in the anti-doping sample analysis procedures; and that, the integrity of the samples is fully maintained. Athletes can have confidence that the suspension will only be lifted by WADA when the Laboratory is operating optimally; and that, the best solution will be put in place to ensure that sample analysis for the Rio Olympic and Paralympic Games is robust."
LBCD has 21 days to appeal the decision to the Court of Arbitration for Sport (CAS) but will most likely spend the next few weeks doing its best to avoid a huge embarrassment for Brazil's Olympic efforts.
WADA's provisional suspension of the LBCD remains in effect until November 23, 2016. This would clearly disqualify it from testing samples from the Rio Olympics unless the WADA Executive Committee decides to lift the suspension in the next few weeks.
Source:
WADA. (June 24, 2016). WADA Suspends Accreditation of Rio Laboratory. Retrieved from https://www.wada-ama.org/en/media/news/2016-06/wada-suspends-accreditation-of-rio-laboratory