Alexander Krushelnitsky, a world champion athlete from Russia in mixed doubles curling, has been disqualified for a 4-year period of ineligibility related to the use of the prohibited drug meldonium. The sanction was announced by the Court of Arbitration for Sport Anti-Doping Division (CAS-ADD) on December 4, 2018.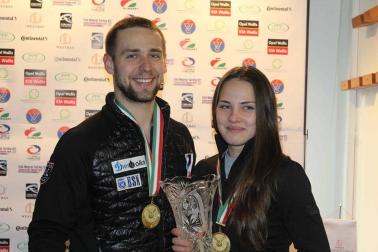 Krushelnitsky tested positive for meldonium in a sample collected following the mixed doubles tournament of the 2018 Peyogchang Winter Olympics on February 12, 2018. Krushelnitsky, along with his partner and wife Anastasia Pryzgalova, won the bronze medal in the event.
Krushelnitsky and Bryzgalova were stripped of the bronze medals after Krushelnitsky's meldonium anti-doping rule violation (ADRV) was announced on February 22, 2018.
Krushelnitsky strongly denied intentionally using meldonium. He claimed that his food or beverage must have been spiked by an unnamed person. The CAS-ADD rejected his arguments. It concluded that Krushelnitsky was unable to provide any "reliable or credible evidence" to substantiate his assertion of sabotage.
The use of meldonium was legal up until the World Anti-Doping Agency (WADA) banned it on January 1, 2016. Prior to 2016, the use of meldonium among Russian athletes was rampant.
WADA confirmed meldonium's widespread use among Russian athletes when it added meldonium to the 2015 Monitoring Program. This allowed WADA to test athletes for the drug during routine anti-doping tests. WADA could not penalize athletes for meldonium use during the monitoring period.
Meldonium was originally approved in Latvia and Russia as a treatment for angina and myocardial ischemia. The anti-ischemic drug has beneficial health effects via the improvement of blood flow to the heart muscle.
Meldonium's ability to enhance oxygen uptake apparently translated to potential performance-enhancement benefits in athletes as well.
Dimitry Svishchev, the president of the Russian Curling Federation, stood behind Krushelnitsky's innocence. Svishchev indicated that Krushelnitsky planned to appeal the ruling.
Source:
Associated Press. (December 4, 2018). Russian curler Alexander Krushelnitsky banned 4 years in Olympic doping case. Retrieved from espn.com/olympics/story/_/id/25453076/russian-curler-alexander-krushelnitsky-banned-4-years-olympic-doping-case