A high-performance fabric technology company has created a "Doping Kit" specifically for elite competitive cyclists such as the 2018 Tour de France competitors. The "doping kit" does not contain any pharmaceutical drugs such as steroids or EPO. Rather it merely contains a cycling jersey, bib short and socks that are intended to give athletes a legal advantage akin to doping.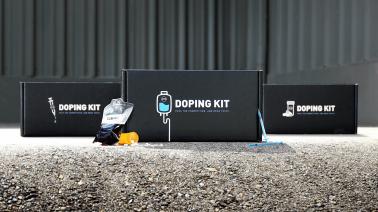 The Boulder-based company Cocona Inc. claimed that athletes who wore apparel containing its 37.5 patented fabric technology could perform up to 26% longer than athletes who used a jersey comprised of traditional materials. The company cited a peer-reviewed University of Colorado Boulder study to support its claims.
"Testing confirmed that the test subjects wearing 37.5 Technology shirts were able to perform up to 26% longer than those in the shirt without 37.5 because of the slower core temperature build-up," according to 37.5's marketing material.
Dr Greg Haggquist, the founder and chief technology officer (CTO) of Cocona Inc., seemed to believe clean athletes would find no need for performance-enhancing drugs (PEDs) after trying its high tech fabrics.
"If we can convince even one clean athlete to start doping with our fabric technology, then it's all been worth it," said Haggquist.
Jeff Bowman, the chief executive officer of Cocona Inc., worked with a marketing agency called Work in Progress to create a gimmick in which the cycling apparel would be given to Tour de France cyclists as free samples. The stunt packaged the apparel inside black boxes labeled "Doping Kit: Pass the Competition. And Drug Tests". The box also contained a logo of what appeared to be a blood transfusion bag.
"Hopefully this free sample will get them hooked on (37.5's version of) doping," Bowman said. "And then they'll keep crawling back for another fix."
Of course, Tour de France participants will most likely not take advantage of the free offer due to sponsorship restrictions. Then there is the fact that EPO microdosing and other doping technologies probably work better albeit not legally.
Source:
Zanger, D. (July 12, 2018). This 'Doping Kit' Hopes to Get Cyclists' Attention, Though the Performance Enhancement Is Legal. Retrieved from adweek.com/creativity/this-doping-kit-hopes-to-get-cyclists-attention-though-the-performance-enhancement-is-legal/