The Australian owner of two now-defunct underground laboratories (UGLs) that manufactured anabolic steroids has been sentenced to 6-1/2 years in prison. At their peak, the UGLs "Oz Pharma" and "Alpha Anabolics" were among the largest steroid labs in the history of the Australian domestic steroid trade.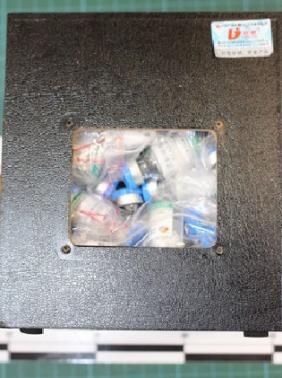 John Triulcio was the mastermind behind Oz Pharma and Alpha Anabolics. The quantity of raw steroid powder that he was importing was "staggering" by all accounts. But it wasn't only the large amount of steroids involved in his operation that got Triulcio in trouble. It was the fact that Triulcio didn't know when to stop that doomed him.
Triulcio initially operated Oz Pharma and Alpha Anabolics from his home in West Lakes (Adelaide). When Triulcio was first arrested in 2014, his backyard operation was shut down. South Australia Police and federal agents raided Triulcio's home and seized 3,000 vials of injectable steroids, one kilogram of raw steroid powder and 10-liters of liquid steroids in bulk containers.
Triulcio was restricted to home detention as a condition of his bail. Yet this didn't slow Triulcio down.
Little did police know that his home-based operation was only the tip of the iceberg. Triulcio had significantly expanded his steroid enterprise well beyond his home.
While Triulcio was on home detention bail, he obtained a second mobile phone and continued to direct the operation of his steroid empire with the assistance of his business associates. He smuggled increasingly larger quantities of steroid powder into Australia. His steroid powder source used some clever techniques to avoid detection by customs such as hollowed out stereo speakers and television cables to hide the steroids.
Unfortunately for Triulcio, Australia Brder Force was not fooled. ABF intercepted 23 consignments of steroid powder imported by him. As a result, Triulcio was arrested again on December 24, 2014. Yet Triulcio still attempted to continue business as usual. In 2015, Triulcio imported another 43 consignments of steroid powder and human growth hormone while on bail.
The full extent of Triulcio's steroid empire didn't become apparent to authorities until he was arrested yet again in August 2015. This time he was arrested on entirely unrelated charges connected to a string of domestic violence incidents.
In total, ABF officer seized 54-kilograms of anabolic steroid powders, ancillary bodybuilding drug powders and human growth hormone. The value of the seizures was placed at over $4.5 million.
Judge Paul Muscat had no choice but to sentence Triulcio to 6-1/2 years in prison after Triulcio pleaded guilty to 17 drug trafficking charges.
"The profits to have been made by you from the distribution of steroids is staggering and it was clearly the driving factor behind you continuing to offend after your arrest in 2014," Judge Muscat said.
"Your offending over a 10-month period involved one of the most significant steroid importations that has come before the courts. Before you realised it, you were getting deeper and deeper into your business and ... you saw it is a financially lucrative business. It seems to that you were seduced by the ease at which you were able to manufacture and sell your steroids."
Triulcio will be eligible for parole in August 2019.
Source:
Lane, E. (January 2, 2018). John Triulcio's $4.5m Adelaide based steroid empire ends in six-and-a-half-year prison sentence. Retrieved from adelaidenow.com.au/news/south-australia/john-triulcios-45m-adelaide-based-steroid-empire-ends-in-six-and-a-half-year-prison-sentence/news-story/3440cf6ee2fb0dac143eb7ba62cb10ad