Joe Morgan, the Chairman of the Baseball Hall of Fame and a Hall of Famer himself, believes that "steroid users" have no place in the Cooperstown shrine to the best baseball players in history. In a letter addressed to the voting members of the Baseball Writers' Association of America (BBWAA), Morgan begged sportswriters to vote against any suspected steroid users.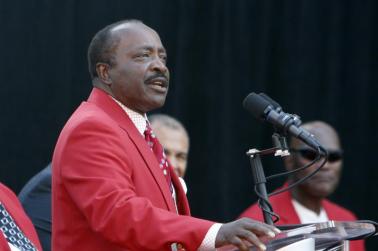 The 2018 Hall of Fame ballot was distributed to BBWAA voting members on November 20, 2017. In a clear attempt to influence the voting, Morgan emailed his letter to writers on the following day. The Baseball Hall of Fame has noticeably remained silent on the controversy involving anabolic steroid use by MLB players for several years. Morgan's letter is the first time that the Hall of Fame has weighed in on the issue.
"[F]ans might think we are ok if the standards of election to the Hall of Fame are relaxed, at least relaxed enough for steroid users to enter and become members of the most sacred place in Baseball," Morgan wrote. "We don't want fans ever to think that. We hope the day never comes when known steroid users are voted into the Hall of Fame. They cheated. Steroid users don't belong here...
"It's gotten to the point where Hall of Famers are saying that if steroid users get in, they'll no longer come to Cooperstown for induction ceremonies or other events. Some feel they can't share a stage with players who did steroids. The cheating that tainted an era now risks tainting the Hall of Fame too. The Hall of Fame means too much to us to ever see that happen. If steroid users get in, it will divide and diminish the Hall, something we couldn't bear."
Since Morgan distributed his letter utilizing an official Hall of Fame email address, many people considered Morgan's position to represent the official position of the Hall of Fame. However, the Hall of Fame's Vice President of Communication and Education Jon Shestakofsky refuted such interpretations. Shestakofsky insisted that the Hall of Fame does not endorse Morgan's message.
Many writers and fans were disturbed by Morgan's attempt to influence the vote. Some cited the hypocrisy of those who wished to keep steroid users out while having allowed known amphetamine users, alcoholics and domestic abusers into the "most sacred place in Baseball".
Award-winning sportswriter Jeff Passan summed up this sentiment when he explained his decision to give up his Hall of Fame ballot in response to Morgan's "desperate" letter.
'Of the 1,069 propagandizing words sent Tuesday to Baseball Hall of Fame voters urging them to just say no to steroids, none encapsulated the museum's winning combination of self-reverence and tone-deafness quite as blatantly as the six in which it called itself: "The most sacred place in Baseball,"' wrote Passan. 'If, by sacred place, the Hall means one in which racists, wife beaters, drunks, gamblers and purveyors of manifold moral turpitude otherwise are celebrated, well, Cooperstown is a shining beacon of divinity set upon a hill of hypocrisy.'
Source:
Passan, J. (November 23, 2017). I am giving up my Hall of Fame vote because of Joe Morgan's letter. Retrieved from sports.yahoo.com/giving-hall-fame-vote-joe-morgans-letter-144738128.html