The BMJ Case Reports journal recently published the case study of a 60-year old anabolic steroid-using bodybuilder who was diagnosed with non-ischemic cardiomyopathy on July 23, 2018. The man admitted using relatively high-dosages of testosterone as well as illegal stem cell injections from his personal trainer. The doctors seemed to focus exclusively on the steroids while completely ignoring the significance of "stem cell injections".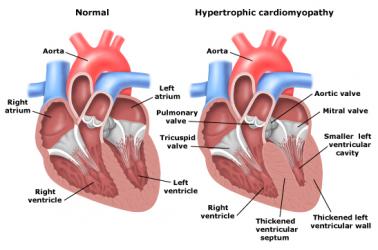 The 60-year old bodybuilder had a history of hypogonadism that was treated with testosterone replacement therapy (TRT). His regular doctor had previously prescribed a TRT dosage of 200 milligrams every 3 weeks. But his doctor stopped prescribing it for him after his serum testosterone levels were tested at 2872 ng/dL with an elevated hemoglobin of 17 mg/dL. His doctor probably thought the bodybuilder was taking a higher dosage of testosterone than he was being prescribed.
The fact that his doctor discontinued his prescription for pharmaceutical testosterone did not stop the bodybuilder from obtaining steroids from the gym. He obtained a personal supply of testosterone (and possibly other anabolic steroids) from his trainer.
The bodybuilder was using supraphysiological dosages of testosterone at the time of his admission to the hospital. The bodybuilder purported to have started a steroid cycle in preparation for an upcoming weightlifting competition. Unfortunately, we have no indication of the exact dosage that was being used.
The physician who submitted the case report revealed that bodybuilders in general are known to use 5 to 29 times the recommended prescribed therapeutic dosage but gave no particular information of the subject of the case report. Even the blood tests used to measure serum testosterone levels were less than helpful because the doctor requested a testosterone test that was capped off at a maximum of 1500 ng/dL.
The facts of the case that were reported indicated that the bodybuilder was hospitalized after experiencing a worsening shortening of breath following a bout with pneumonia. He was transferred to the intensive care unit (ICU) after suffering acute hypoxic respiratory failure. He was in very bad shape with a tachycardia of 130 beats per minute, respiratory rate of 45 breaths per minute and oxygen saturation of 89%. He presented with pulmonary edema and cardiomegaly (left ventricular hypertrophy) with an ejection fraction of 25% to 30%. He was discharged after being prescribed a treatment of aspirin 81 mg per day, carvedilol 12.5 mg twice per day, digoxin 0.25 mg daily, valsartan 40 mg twice per day and furosemide 20 mg per day.
The good news for the bodybuilder was that he largely recovered from the incident at a 6-month follow-up. He was asymptomatic with an improved EF of 505 to 55%. He had apparently followed the doctor's orders and stopped using steroids and his serum testosterone levels dropped to a low normal level of 346 ng/dL.
It still seems baffling that the doctors didn't seem interested in following up on the very unusual practice of illegal injections of stem cells. It was clearly easier to focus on steroids given the association of steroids with cardiovascular complications.
Source:
BMJ. (July 23, 2018). Cardiomyopathy induced by anabolic-androgenic steroid abuse. Retrieved from casereports.bmj.com/content/2018/bcr-2017-223891.full