Nigel Levine, an elite sprinter who represented Great Britain at the Olympics and multiple World Championships, has been suspended for 4-years following a positive test result for the prohibited asthma drug clenbuterol. UK Anti-Doping (UKAD) announced its decision in a press release published on November 20, 2018.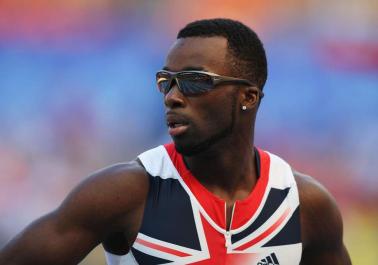 Levine's clenbuterol positive arosed from an out-of-competition urine sample collected while he was training at Brunel University on November 24, 2017. The WADA-accredited laboratory Drug Control Centre at King's College London identified the presence of clenbuterol in Levine's sample.
Levine strongly denied intentionally ingesting clenbuterol He speculated that the clenbuterol positive was caused by one of the two dietary supplements that he was using at the time of the sample collection.
Unfortunately, Levine was unable to provide evidence that the two supplements were contaminated. He could only provide UKAD with an empty bottle of the first supplement that he was using and some unlabeled pills for the second supplement.
UKAD did not find this acceptable. The bottle did not contain sufficient residue to perform any type of analysis. And the unlabeled pills were from a different batch than the one used by Levine.
Nicole Sapstead, the chief executive officer for UKAD, criticized Levine for failing to live up to the high standards required of a "role model" who represents British athletics.
"It is up to role models such as Mr Levine to uphold the highest standards when it comes to anti-doping, ensuring they check all supplements thoroughly and are 100 per cent certain they know that what they are consuming is not prohibited."
The 4-year suspension is a major blow to Levine's hopes of a comeback following a serious motorcycle accident that left him with a broken pelvis. The accident occurred in Tenerife in January 2017. Levine and fellow sprinter James Ellington were both injured.
Levine was a member of Britain's 4x400 meter relay team that won gold medals at the 2013 European Athletics Indoors Championships in Gothenburg and the 2014 European Athletics Championships in Zurich.
Levine will not be eligible to return to competition until December 12, 2021.
Source:
UKAD. (November 20, 2018). Athlete banned for four years. Retrieved from ukad.org.uk/news/article/athlete-banned-for-four-years/