British sprinter Nigel Levine may need to wait a lot longer before making a comeback to track competition. He's already missed a year recovering from an injury sustained during a motorcycle accident. And now Levine has reportedly failed an out-of-competition drug test.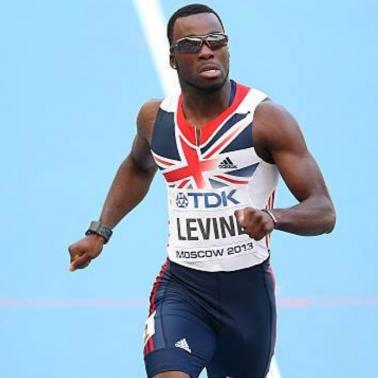 Levine has reportedly tested positive for the prohibited asthma drug clenbuterol. Clenbuterol is banned by the World Anti-Doping Agency (WADA) and all athletic associations that have adopted the WADA Code.
Clenbuterol is sometimes mistakenly referred to as an anabolic steroid by the news media. This is inaccurate. It belongs to a class of drugs known as long-acting beta adrenergic agonists (LABA). This is contrasted with other short-acting beta agonists such as salbutamol (Albuterol, Ventolin).
Clenbuterol is prescribed therapeutically as an asthma drug. While some endurance athletes may find some performance-enhancing benefits by using the asthma drug, clenbuterol is generally used by athletes, particularly bodybuilders, for its fat burning properties and weight loss indications.
Levine's failed drug test has not been confirmed by UK Athletics pending confirmation of testing of the "B" sample. If the B sample is confirmed, Levine faces a suspension of up to 4 years by UK Anti-Doping (UKAD).
A failed drug test would represent a continuation of Levine's recent bad luck. Levine was involved in a serious motorcycle accident along with fellow sprinter James Ellington during a training camp in Tenerife on January 17, 2017. Levine broke his pelvis and Ellington fractured his pelvis, tibia and fibula. The sustained injuries could have potentially been life-threatening for both sprinters.
Levine missed the 2017 IAAF World Championships in Athletics in London as a result of the accident. Fortunately, Levine was able to resume training in the fall. Levine had started training with an elite group of sprinters at Loughborough University as well as with sprinters trained by Linford Christie. Levine was undoubtedly planning a big comeback in 2018.
The 2018 comeback could very well be involuntarily aborted now if the "B" sample is also positive for clenbuterol. The broken pelvis didn't the career of the 28-year old Levine. Unfortunately, a confirmed adverse analytical finding (AAF) involving clenbuterol and a lengthy suspension could put his future in doubt.
Levine has helped Britain win gold medals at the 2013 European Athletics Indoors Championships in Gothenburg and the 2014 European Athletics Championships in Zurich as part of the 4x400-meter relay teams. In addition, Levine has helped Britain secure at least additional medals at European and World Outdoor and Indoor Championships since 2010.
If Levine is suspended for four years, a comeback after a lengthy suspension isn't impossible. There is hope. After all, Olympic gold medalist Justin Gatlin returned from two doping suspensions and has continued to compete at an elite level well into his 30s. At a current age of 35 years, Gatlin is running as fast as ever and even defeated Usain Bolt during his comeback.
Levine already shares something else in common with Gatlin. Levine and Gatlin apparently both utilized an Austrian sports agent named Robert Wagner. Wagner was the subject of an undercover journalistic investigation in which Wagner offered to provide banned PEDs such as testosterone and human growth hormone (hGH) to the undercover reporter. Gatlin and Levine have obviously both faced considerable scrutiny over their association with Wagner.
Source:
Kelner, M. (December 23, 2018). British sprinter Nigel Levine fails drugs test. Retrieved from theguardian.com/sport/2017/dec/23/british-sprinter-nigel-levine-allegedly-fails-drugs-test