Drug Free Sport New Zealand (DFSNZ) has revealed that as many as 80 athletes are currently under investigation for potential anti-doping rule violations (ADRVs). The names of the 80 athletes came to the attention of anti-doping investigators after a domestic steroid source was busted earlier this year.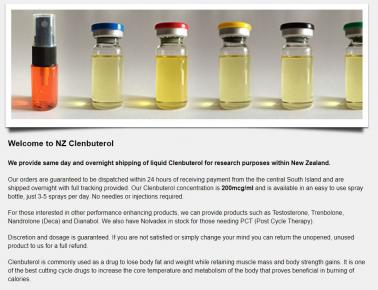 Josh Townshend was sentenced to two years in prison after pleading guilty to 129 violations of the New Zealand Medicines Act of 1981 in May 2017. Townshend manufactured anabolic steroids, ancillary medications such as clenbuterol, and other performance-enhancing drugs (PEDs) in a relatively large-scale underground laboratory (UGL) operating domestically in New Zealand.
Townshend sold the products under the brand name "APS". He openly and blatantly marketed the products via the internet website Clenbuterol.co.nz. Prosecutors estimated that Clenbuterol.co.nz generated average annual sales in excess of $300,000 NZD ($206,000 USD) from as early as 2013 until 2017. In a single-year period, Townshend allegedly sold 2,100 ten-milliliter bottles of liquid clenbuterol hydrochloride and 2,400 units of injectable anabolic steroids.
But the case didn't end with Townshend's imprisonment. The New Zealand Medicines and Medical Devices Safety Authority (MEDSAFE) seized computer(s) containing Townshend's financial records and customer databases and turned them over to DFSNZ.
A preliminary analysis of the data by DFSNZ implicated two competitive athletes – cricketer Adam King (Paraparaumu Cricket Club) and rugby player Adam Jowsey (Hawkes Bay Rugby Club). King was suspended for two years after it was revealed that he was a customer who purchased the steroids nandrolone and testosterone from Townshend via Clenbuterol.co.nz. Jowsey was also suspended for two-years after Townshend's database identified him as a purchaser of 3 twenty-milliliter bottles of clenbuterol hydrochloride.
The preliminary analysis was followed by a much more thorough and extensive analysis. The second analysis identified over 100 clients who were registered with national sporting organizations in New Zealand. DFSNZ chief executive Nick Paterson told the media that the implicated athletes came from a wide variety of sports at various levels.
"We found a large number," Paterson said. "We have people across a good range of sports. We have levels of athlete from school and club level and upwards from there. We have male and female… These people who purchased from the website literally had no idea what they were putting into their bodies. For all we know the ingredients were mixed in a bathtub. If that's not a health risk, or a potential health risk, I don't know what is. How can you think that's okay?"
At least 80 of those clients could face sanctions according to DFSNZ. This number represents a huge increase in the usual number of athletes investigated for ADRV by DFSNZ. In the previous calendar year, only 8 athletes were sanctioned for anti-doping violations.
Source:
Cleaver, D. (December 9, 2017). Sport shock: 80 New Zealand athletes suspected in illegal steroid probe. Retrieved from http://www.nzherald.co.nz/sport/news/article.cfm?c_id=4&objectid=11955850