EFC Africa Bantamweight Demarte Pena Suspended for Four Years After Testing Positive for Steroids
Demarte "The Wolf" Pena, an Angolan mixed martial arts (MMA) athlete competing in the bantamweight category of Extreme Fighting Championship of Africa (EFC Africa), has been suspended for four years after testing positive for anabolic steroids. Pena originally received a reprimand by the local governing body but was suspended after the World Anti-Doping Agency (WADA) appealed the ruling to the Court of Arbitration for Sport (CAS).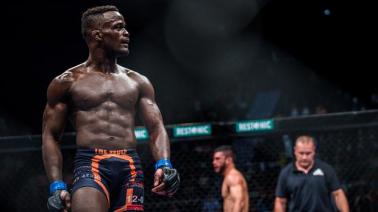 The Pena doping case originated with a urine sample collected by the South African Institute for Drug-Free Sport (SAIDS) on November 11, 2016. An analysis revealed the presence of testosterone metabolites including androstenedione and androstenediol.
Pena denied knowingly using steroids and blamed the use of contaminated supplements for the positive drug test result. Pena blamed Test Freak by Pharma Freak and Testoforte by Biogen.
SAIDS analyzed the dietary supplements (at the South African Doping Control Laboratory in Bloemfontein) and discovered contamination with androstenedione and androstenediol. Based on this analysis, the governing body Mixed Martial Arts South Africa (MMASA) cleared Pena of intentional wrongdoing on May 25, 2017. Pena was reprimanded but still allowed to continue to compete.
WADA wasn't happy with MMASA's decision to allow Pena to go unpunished. So WADA appealed the case to the CAS. The CAS ruled in favor of WADA. The CAS strongly rejected MMASA's decision to clear Pena of intentional wrongdoing. The CAS said that Pena was responsible for intentional doping and categorically failed to prove his positive test was the result of supplement contamination.
Specifically, the CAS found that two of the three samples submitted for testing were not sealed as claimed. The two unsealed bottles were contaminated. The sealed bottle was not. And even if the supplement was legitimately contaminated, it could not have produced the banned steroid metabolites in the concentration found in Pena's urine sample.
Source:
Moses, L. (July 19, 2018). Former EFC champ Demarte Pena found guilty of doping, banned for four years. Retrieved from iol.co.za/sport/boxing/former-efc-champ-demarte-pena-found-guilty-of-doping-banned-for-four-years-16135978