Samir Nasri signed a new Premier League contract immediately after he completed his doping suspension.
Samir Nasri, a French soccer player who previously played for the Arsenal and Manchester City football clubs, has returned to the Premier League with a new contract to play for the West Ham United Football Club. Nasri finalized the deal on the day that his 18-month doping suspension ended.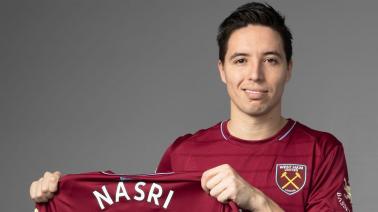 Nasri's doping suspension and time away from competition obviously did not hurt his marketability. The West Ham United owners and manager Manuel Pellegrini Ripamonti were eager to sign Nasri as soon as he became eligible to play again. They were literally counting down the days for his suspension to come to an end.
To be fair, Nasri's 18-month doping suspension was the penalty for a relatively trivial rule violation. Nasri was not caught using anabolic steroids, growth hormone or any other type of prohibited performance-enhancing drug. He was penalized for taking vitamins.
Samir Nasri was suspended 18 months for using vitamins.
Of course, the vitamins themselves were not prohibited. And the vitamins were not performance-enhancing. It was the delivery method that was problematic.
Nasri was given a 500-milliliter intravenous infusion of a vitamin and micronutrient solution at a Los Angeles medical clinic called Drip Doctors. The infusion was called "Immunity IV Drip" and was intended to help maintain proper body hydration.
The only problem was that the World Anti-Doping Agency (WADA) prohibits intravenous infusions that exceed 50-milliliters within any six-hour period unless the athlete has a therapeutic use exemption (TUE). Nasri did not.
Nasri did not know this was an anti-doping violation. The only reason he was caught was because of a social media post shared by Drip Doctors.
Drip Doctors detailed the type of IV infusion received by Nasri in a Twitter message posted on December 26, 2016 from its official @DripDoctors account. A photograph of Nasri receiving the IV infusion was included on Twitter.
Nasri asked the Union of European Football Association (UEFA) to issue him a backdated TUE. Unfortunately, UEFA refused. Nasri appealed the suspension but the Court of Arbitration for Sport (CAS) upheld the UEFA's decision.
Nasri probably lost 18-months of income as a result of the boneheaded mistake. Fortunately, the West Ham United owners have no problem overlooking the "doping" incident.
Source:
West Ham United. (December 31, 2018). Hammers sign Premier League title winner Samir Nasri. Retrieved from whufc.com/news/articles/2018/december/31-december/hammers-sign-premier-league-title-winner-samir-nasri