Humberside Police Detective Sergeant Andy Bradley Claims Steroids are Just as Lethal as Harder Drugs
Andy Bradley, a Detective Sergeant with the Humberside Police in England, recently asserted that anabolic steroids are just as dangerous and just as lethal as "harder drugs" such as heroin and cocaine.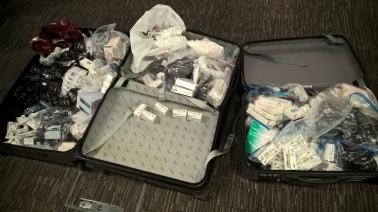 "The perception that steroids aren't as dangerous as so-called 'harder' drugs is a myth," Det. Sgt. Bradley confidently but ignorantly told the news media after a local steroid bust on October 5, 2018.
"They can be just as lethal and there have been a number of cases where people have tragically died as a result of taking them. It's not just class A and class B drugs such as heroin, cocaine and cannabis that our officers execute warrants on. To seize such a large amount of these kind of drugs is a great result."
Det. Sgt. Bradley was celebrating a steroid bust that resulted in the seizure of three large suitcases full of anabolic steroids and various other bodybuilding drugs. Police were tipped off after they seized approximately £2,500 from an individual on Strickland Street in the City of Kingston upon Hull. Intelligence obtained during the seizure led to another man at a premises just off of Hessle Road.
Police executed a search warrant obtained under the Misuse of Drugs Act to search the Hessle Road location. They found a 43-year old man with three large suitcases full of muscle-building and bodybuilding drugs in his possession. The man was arrested on suspicion of possession with intent to supply a class C drug (anabolic steroids).
The Humberside Police released photographs of the drug seizure. Most of the drugs appeared to be ancillary bodybuilding drugs. The photographed drugs included a lot of pharmaceutical drugs from Greece such as Anfarm Hellas Clomiphene (Clomid) and Uni-Pharm Dithyron (T4/T3 combination). Injectable anabolic steroids manufactured by Med-Tech Solutions were also visible in the photographs.
Source:
Kemp, D. (October 5, 2018). Police find HUGE stash of illegal steroids and cash in sudden raid off Hessle Road. Retrieved from hulldailymail.co.uk/news/hull-east-yorkshire-news/police-find-huge-stash-illegal-2080021