Ibuprofen, the nonsteroidal anti-inflammatory drug (NSAID) drug sold in the United States under the brand names Advil and Motrin, has been found to interfere with the natural testicular production of testosterone. This is particularly bad news for bodybuilders, powerlifters and essentially any high-performance athletes who regularly use Ibuprofen to manage pain and inflammation.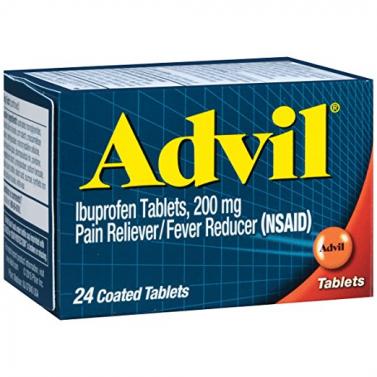 Danish and French researchers have documented the disturbing effects of ibuprofen in a paper titled "Ibuprofen alters human testicular physiology to produce a state of compensated hypogonadism" published early online by the Proceedings of the National Academy of Sciences (PNAS) on January 8, 2018.
"[W]e report a univocal depression of important aspects of testicular function, including testosterone production, after use of over-the-counter ibuprofen," the researchers concluded. "The study shows that ibuprofen use results in selective transcriptional repression of endocrine cells in the human testis. This repression results in the elevation of the stimulatory pituitary hormones, resulting in a state of compensated hypogonadism, a disorder associated with adverse reproductive and physical health disorders."
Ipuprofen is widely used because it has so few side effects. However, the testosterone suppressing effects of ibuprofen may cause athlete to reconsider their regular use of Advil and/or other NSAIDs to manage musculo-skeletal pain.
First and foremost, it should be noted that ibuprofen's impact on the testicular production of testosterone occurred after subjects used the maximum recommended amount of 1200 milligrams per day. The study trial involved 31 men. Fourteen men ingested two daily divided dosages of 600-milligrams of ibuprofen. The remaining subjects ingested placebo sugar pills.
The researchers found that testosterone production (steroidogenesis) was directly inhibited by ibuprofen at the testicular level. Specifically, the Leydig cells and the Sertoli cells were negatively impacted. The testosterone disrupting effects occur as early as 14 days of ibuprofen administration.
The body attempts to compensate for the lowered testosterone production by increasing the levels of ptiuitary gonadotropin hormones - luteinizing hormone (LH) and follicle-stimulating hormone (FSH). The overall serum blood levels of testosterone don't really change in response to ibuprofen administration thanks to this "compensated hypogonadism".
The increased LH and FSH effectively mask the testosterone-suppressing effects of ibuprofen. However, this is still of great concern because ibuprofen significantly decreases the testicular responsiveness to LH and FSH. This is something to consider for athletes who regularly use Advil or Motrin. Ibuprofen is generally considered safe with no noticeable adverse side effects. But ibuprofen's hormone impact may cause athletes to think twice about using ibuprofen.
Source:
Scutti, S. (January 9, 2018). Ibuprofen linked to male infertility, study says. Retrieved from edition.cnn.com/2018/01/08/health/ibuprofen-male-fertility-study/index.html