Bryan Fogel's "Icarus" premiered in the U.S. Competition at the 2017 Sundance Film Festival in Park City, Utah on January 20, 2017. The documentary tells the story of Russia's state-sponsored doping program from the perspective of its chief architect, Grigory Rodchenkov.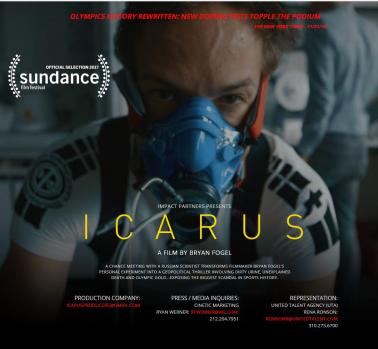 Rodchenkov was the former director of the Russian Anti-Doping Agency (RUSADA). But rather than use the agency to fight steroid use among its athletes, Rodchenkov used the agency to find ways to help athletes use steroids and other performance-enhancing drugs (PEDs) while avoiding detection.
When Fogel first contacted Rodchenkov, he had no idea that the RUSADA chief was involved in the extensive and systematic doping of hundreds of elite Russian athletes. Fogel originally wanted to do a movie about his own self-experimentation with PEDs in a Super Size Me type of documentary.
Fogel first contacted the world-renowned former director of the UCLA Olympic Analytical Laboratory – Don Catlin – in search of an expert who would help him use steroids and other drugs to improve his competitive cycling performance. But Catlin referred him to Rodchenkov.
Somehow Catlin already knew that Rodchenkov was deeply involved in doping Russian athletes long before the rest of the world knew. When The Daily Mail (UK) asked Catlin via email if and how he knew about Rodchenkov's role as a doping facilitator, Catlin deflected the question with a vague answer.
"I could answer that question but it doesn't make Grigory look good… I suggested [Fogel] speak with Grigory, which he did. I have been involved with Russia for many, many years. It is a long story."
After Fogel contacted Rodchenkov, the RUSADA director agreed to advise Fogel of the finer points of doping while avoiding detection in a series of conversations conducted via Skype. But Fogel quickly abandoned his story about steroid self-experimentation after the larger story of Rodchenkov's role in the Russian doping program became an international news story.
"When this story took on a completely different trajectory I was feeling exuberant – 'Oh my God, this is going to be a ten-times greater movie than I ever imagined,'" Fogel told the Los Angeles Times. "And at the same time I'm going, 'holy …. This is truly scary.'"
Rodchenkov defected to the United States after he decided to go public about his role in Russian doping. In May 2016, Rodchenkov told New York Times reporters Rebecca Ruiz and Michael Schwirtz how he exploited several weaknesses in the anti-doping procedures set forth by the World Anti-Doping Agency (WADA) as well to advance the sporting interests of Russian athletes.
Rodchenkov claimed that he doped at least 1,000 Russian athletes who participated at the 2008 Beijing Olympics, the 2012 London Games and the 2014 Sochi Olympics in Russia as well as other national and international competitions. But perhaps even more importantly, Rodchenkov alleged that the doping was supported at the highest levels of the Russian government. Rodchenkov directly implicated Russian president Vladimir Putin as the person responsible for appointing him as the "doper-in-chief" of Russian sports. In the documentary, Rodchenkov claimed "I am Mafia… Putin knows me."
Putin has vehemently denied his involvement in any such state-sponsored doping program. Instead, Putin has called Rodchenkov a scandalous traitor who in reality was a rogue sporting official who orchestrated the doping on his own.
Rodchenkov understandably fears for his life. In the documentary, he claimed that his entry into the United States Federal Witness Protection Program is imminent. Rodchenkov will assume another identity and will testify should federal prosecutors ever need him to testify as a prosecution witness in the future.
The United States Justice Department has reportedly launched its own investigation into Russian doping with the goal of bringing conspiracy and fraud charges against Russian government officials and other individuals who promoted doping. The Justice Department must first find a connection to the United States before it can prosecute foreign officials. This has previously been done in international doping cases through the identification of an American financial institution or American branch of a foreign bank utilized by foreign defendants.
"Icarus" will soon be available to a worldwide audience after Netflix acquired the international streaming video on demand rights for $5 million. Netflix beat out competing bids from rival studios that included Sony Pictures, Magnolia and Amazon Prime.
"This has been an intense 3.5-year personal journey that exposed the biggest scandal in sports history," said Fogel. "To be able to work with Netflix, a company that is able to launch this story globally in such a big way, with such potential for social and political impact, is a spectacular honor."
Source:
Harris, N. & Pielke, R. (January 21, 2017). Vladimir Putin 'was at the heart of the Russia drug scandal' alleges 'doper-in-chief' who claims he doped half of his country's 72 London 2012 medalists. Retrieved from
Zeitchik, S. (January 19, 2017). Exclusive: Sundance documentary 'Icarus,' about Russian doping, could light another match under U.S.-Russia relations. Retrieved from http://www.latimes.com/entertainment/movies/la-et-mn-sundance-icarus-feature-20170117-story.html