The 400-meter sprinter was provisionally suspended after steroid positive.
Oluwakemi "Kemi" Adekoya, a 400-meter sprinter who won the gold medal at the 2016 IAAF World Indoor Championship, has been provisionally suspended after providing a sample that tested positive for the anabolic steroid stanozolol (Winstrol).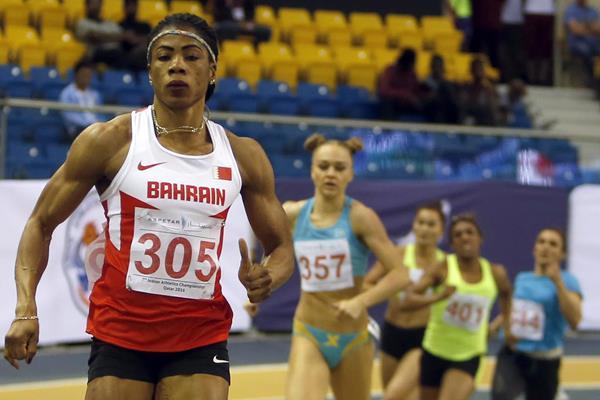 The 25-year old Adekoya submitted the steroid-tainted urine sample during an out-of-competition tested collected on November 26, 2018. The International Association of Athletics Federations (IAAF) Athletics Integrity Unit confirmed the provisional suspension with a "Notice of Allegation" published on January 14, 2019.
Winstrol responsible for dozens of steroid positives.
Winstrol, along with Oral Turinabol, has been one of the worst steroids for drug-tested athletes to use in recent years. While it has been traditionally used as a short-acting steroid that quickly clears the system to avert detection, this is no longer the case with the development of new drug detection technology.
The new technology can detect the presence of very long-acting metabolites from the use of Winstrol and Oral Turinabol for several months after discontinuation.
The IAAF has used this new technology to retroactively re-analyzed store urine samples from the 2008 Beijing Olympics and 2012 London Olympics. It has literally resulted in dozens of new steroid positives.
For this reason, it is surprising that Adekoya, or any drug-tested athlete, would ever consider using Winstrol. This is especially true when there are alternative steroids and techniques that can still avoid detection.
Adekoya was born in Nigeria but has represented Bahrain since 2014. Adekoya is one of several African-born athletes who have switched nationalities to compete for richer non-African countries.
Since moving to Bahrain, Adekoya has become an Asian and an international track champion.
Adekoya won four Asian Games championship gold medals. She won the 400-meters and 400-meter hurdles at the 2014 Asian Games in Incheon and the 400-meter hurdles and mixed 4x400 meter relay at the 2018 Asian Games in Jakarta-Palembang.
She also won the gold medal in the 400-meter event at the 2016 IAAF World Indoor Championship in Portland.
Adekoya hold the Bahrainian national records in the 400-meters and the 400-meter hurdles with times of 50.72 seconds and 54.12 seconds, respectively. Adekoya personal best in the 400-meter took place on Day 9 of the 2016 Rio de Janeiro Olympic Games during a quarterfinal heat. Adekoya did not medal at the Olympics.