Yasuhiro Suzuki, a 32-year old canoeing sprint specialist who had represented Japan as one of its top kayakers for several years, has admitted sabotaging the sports drink of an up-and-coming younger rival with anabolic steroids. The incident occurred at the 2017 Canoe Sprint Japan National Championships in Komatsu on September 11, 2017.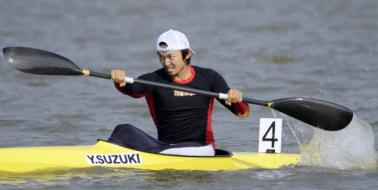 "I wanted to be in the kayak four in the Tokyo Olympic Games, but I was ranked fifth with a younger kayaker higher than me. If this continued, I knew I would fail to qualify for the Olympics so I put in (methandienone)," said Suzuki. "We apologize for causing trouble, not only to canoe athletes but also to those of all other sports."
Suzuki has previously represented Japan at the 2010 Asian Games, the 2014 Asian Games and, most recently, at the 2017 ICF Canoe Sprint World Championships in Czech Republic. Suzuki placed as high as third in the K-1 1000-meter sprint at the 2014 Asian Games. He retired after placing 24th in the K-1 5000-meters at the 2017 World Championships.
Suzuki decided to return to competition in order to make the Japanese national team for the 2020 Tokyo Summer Olympics. Yet Suzuki felt he was at a distinct disadvantage to his younger rivals and needed to find a way to improve his chances of qualifying. Suzuki resorted to anabolic steroids but not in the same way that most athletes turn to steroids.
Suzuki didn't want to use steroids to improve his own performance. Suzuki had a different plan. He would sabotage his competitor by spiking their drink with steroids so that they would test positive and be disqualified. Suzuki's devious plan almost worked.
After buying and receiving methandienone (Dianabol) tablets from an online steroid source, Suzuki carefully planned a way to sabotage his rival, the 25-year old Seiji Komatsu. Suzuki and Komatsu were both competing in the K1 200-meter event at the 2017 national championships. Before the race, Suzuki crushed the Dianabol pills into a fine powder and mixed it in Komatsu's drink in the designated drink area. As planned, Komatsu tested positive for methandienone metabolites and was disqualified and suspended.
Komatsu protested his innocence and vehemently denied ever (knowingly) using anabolic steroids. Of course, no one really believed him since ever athlete who tests positive uses the same excuse. Suzuki had achieved his objective and could have gotten away with it if he hadn't been overwhelmed with guilt.
Suzuki called the Japan Canoe Federation president Toshihiko Furuya and gave a full confession in November 20, 2017. The canoe federation conducted an investigation and found that Suzuki's drugging of Komatsu was one of several malicious attempts made to sabotage his rivals. Other attempted included stealing his rivals' equipment during training and competition.
The Japan Anti-Doping Agenncy (JADA) exonerated Komatsu of intentionally doping. Meanwhile, it suspended Suzuki eight years.
Source:
Kyodo. (January 9, 2018). One of Japan's top sprint specialists banned for spiking rival's drink to cause positive drug test. Retrieved from japantimes.co.jp/news/2018/01/09/national/one-japans-top-sprint-canoeists-banned-spiking-rivals-drink-cause-positive-drug-test/#.WlaKKWinGUl