Pitcher Jenrry Mejia has not played in a Major League Baseball (MLB) game since 2015. His career was significantly derailed after he tested positive for anabolic steroids on three different occasions. But the New York Mets organization still supported him – up until now.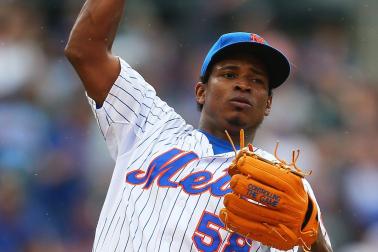 The New York Mets officially released Mejia on November 20, 2018. Mejia was scheduled to be fully reinstated for the 2019 MLB season. Unfortunately, the Mets finally lost their patience with the troubled pitcher. They had the option to sign him to another year long contract for just under $1 million. It just wasn't worth it for them.
The Mets had a long history with Mejia. They signed him to a professional contract at the age of 17 in 2007. He made his Major League debut for the Mets in 2010.
Mejia continued to improve and eventually worked his way into the rotation. He went from signing a $16,500 contract in 2007 to signing a $2.47 million contract in 2016.
The Mets were so impressed by Mejia that they signed him to the multi-million dollar contract in spite of the fact that he was suspended twice for steroids in 2015.
The MLB Commissioner's Office announced that Mejia tested positive for stanozolol (Winstrol) in April 2015. Mejia was suspended for 80 games.
Just three weeks following his return from the 80-game suspension, Mejia tested positive for stanozolol again and boldenone (Equipoise) in July 2015. He was suspended for 162-games.
During his 162-game suspension, Mejia tested positive for boldenone again in February 2016. Mejia received a lifetime suspension.
During his lifetime suspension, the Mets signed Mejia to a $1.729 million contract in January 2018. The Mets organization signed Mejia with the expectation that the pitcher would eventually be reinstated.
However, now that Mejia has been conditionally reinstated for the 2019 season, the Mets have finally given up on Mejia. At least no one can fault them for being extremely patient with Mejia's struggles with doping. Unfortunately, Mejia turned out to be a major disappointment.
Source:
Martin, D. (November 20, 2018). Jenrry Mejia is officially jettisoned by the Mets. Retrieved from nypost.com/2018/11/20/jenrry-mejia-is-officially-jettisoned-by-the-mets/