James Mwangi Wangari was suspended after testing positive for exogenous testosterone metabolites.
James Mwangi Wangari, a 24-year old long distance runner from Kenya, has been provisionally suspended for a potential anti-doping rule violation. The suspension was announced to the Athletics Integrity Unit of the International Association of Athletics Federations (IAAF) on January 19, 2019.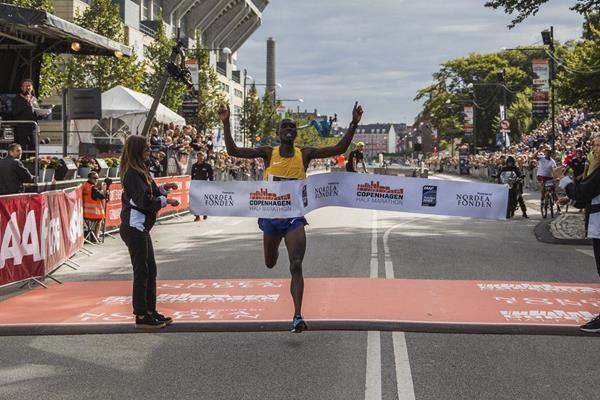 Wangari apparently tested positive for the anabolic steroid testosterone arising from an out-of-competition urine sample collected on December 6, 2018. The sample was sent to a World Anti-Doping Agency (WADA) approved laboratory for a carbon isotope ratio (CIR) analysis. The CIR analysis confirmed that the testosterone metabolites originated from an exogenous origin.
James Wangari still has the fourth fast time in half-marathon history.
Wangari burst onto the competitive distance running scene at the age of 22 years old with breakthrough performances in 2016. In particular, Wangari came surprisingly close to breaking the half-marathon world record on two occasions. At the time, the world record was 58:23 set by Zersenay Tadese of Eritrea.
First, Wangari won the 2016 Stramilano Half Marathon on March 23, 2016 with a time of 59:12. It was the all-time seventh fastest in the world.
Wangari performed even better at the 2016 Copenhagen Half Marathon where he finished in 59:07. Only two men in history had run the half marathon faster.
"I am in a very good shape," said Mwangi. "The speed was excellent in the first half. But the wind was very strong. I really feel I am in shape to beat the world record."
Unfortunately, Wangari has not approached his dominant times of 2016. But that was not for a lack of trying.
Wangari targeted the EDP Lisbon Half Marathon in both 2017 and 2018. The Lisbon Half Marathon was the location for Tadese' world record time of 58:23 in 2010. But Wangari never got close to the record again nor did he win the races.
Wangari was 10 seconds slower than Kiwi winner Jake Robertson at the 2017 Lisbon Half Marathon. Wangari placed 2nd with a time of 1:00:11 compared to Robertson's tie of 1:00:01.
Wangari placed 8th at the 2018 Lisbon Half Marathon with a posted time of 1:00:49.
Wangari faces a four-year period of ineligibility if he is found guilty of the testosterone doping violation.
Source:
AIU. (January 14, 2019). James Mwangi Wangari. Presence of a Prohibited Substances (Testosterone) (Article 2.1). Retrieved from athleticsintegrity.org/disciplinary-process/provisional-suspensions-in-force