Kipyegon Bett, a 20-year old Kenyan middle-distance runner who specializes in the 800-meters, was suspended for four years after testing positive for erythropoietin (EPO) according to a statement published by the IAAF Athletics Inegrity Unit on November 19, 2018.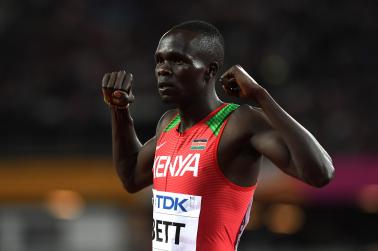 Bett becomes the fifth Kenyan athlete to be suspended for an anti-doping rule violation (ADRV) during the past 5 months. The other athletes suspended for doping include middle-distance runners Asbel Kiprop and Samuel Kalalei, sprinter Boniface Mweresa and marathoner Lucy Kabuu.
Bett won the gold medal in the 800-meter event at the 2016 World Under-20 Championships in Poland held on July 22-24, 2018. He also won the bronze medal at the 2017 IAAF World Athletics Championship in London held on August 5-8, 2017.
Kiprop won the gold medal in the 1500-meter event at the 2008 Beijing Olympics. He was also the gold medalist in the same event at the 2011, 2013 and 2015 IAAF World Athletics Championships.
Kiprop tested positive for EPO during an out-of-competition drug test in November 2017. Kiprop was suspended for four years.
Kalalei won the 2017 Athens Marathon. Kalalei tested positive for EPO in June 2018. Kalalei was suspended for four years in August 2018.
Kabuu won the 2018 Milan Marathon and the 2018 Hong Kong marathon. Kabuu tested positive for morphine in April 2018. Kabuu was suspended for four years in August 2018
Boniface Mweresa won the silver medal in the 400-meters and 4x100-meters at the 2015 All-African Games in Brazzaville. Mweresa tested positive for an unspecified banned substances in June 2018. Mweresa was also provisionally suspended for four years.
Over the past 14 years, the World Anti-Doping Agency (WADA) has reported that 138 Kenyan athletes have tested positive for performance-enhancing and/or other prohibited drugs. The most popular banned drugs used by those athletes include nandrolone, corticosteroids, EPO and clenbuterol.
Source:
Morgan, L. (August 16, 2018). Kenyan world 800m medallist Bett provisionally suspended after accused of refusing drugs test. Retrieved from insidethegames.biz/articles/1068889/kenyan-world-800m-medallist-bett-provisonally-suspended-after-accused-of-refusing-drugs-test