Latvian Athletic Association President and Former Olympic Athlete Tested Positive for Anavar
Ineta Radevica, a former Olympic athlete who currently serves as the President of the Latvian Athletic Association (LAA), has been provisionally suspended for a potential anti-doping rule violation (ADRV). Radevica has tested positive for the anabolic steroid oxandrolone in a re-testing of a stored urine sample from the 2012 London Olympics.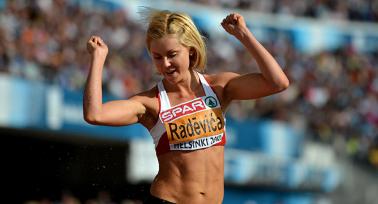 ​The International Olympic Committee (IOC) Athletics Integrity Unit has been retesting hundreds of stored samples from the 2004, 2008 and 2012 Olympics utilizing modern anti-doping detection methods in the hope they can catch dopers retroactively. The retesting program has proven to be a huge success.
Dozens of athletes who originally passed the drug tests the first time around have subsequently tested positive since the IOC program was initiated. Radevica is the fifth female Olympic athlete to test positive for banned substances under the program.
Radevica was an accomplished athlete in her own right. She won the gold in the long jump at the 2010 European Championships and the silver at the 2011 World Championships. She represented Latvia in the Olympics on two occasions.
Radevica never medal-ed at the Olympics. She placed 13th and 20th in the long jump and triple jump at the 2004 Athens Olympics and 4th place in the long jump at the 2012 London Olympics. Nonetheless, Radevica became one of the best known female Olympic athletes in 2004 after she posed nude for Playboy magazine.
Radevica was featured in the September 2004 issue of Playboy magazine. She was one of several Olympic athletes to pose nude in a special "Women of the Olympics" edition.
Radevica has been retired from sports competition for over 6 years. However, she remains highly involved in Latvia's athletics community as the LAA President. Radevica may be forced to resign depending on the outcome of her Anavar doping case.
Source:
Pavitt, M. (November 26, 2018). Latvian Athletics Association President fails doping test in London 2012 retests. Retrieved from insidethegames.biz/articles/1072671/latvian-athletics-association-president-tests-positive-in-london-2012-retests