Mark Wahlberg, the popular Hollywood actor and Academy Award nominated producer, has rejected recent claims of steroid use by the owner of an underground domestic laboratory operation that masqueraded as a legitimate health clinic with FDA-registered laboratory production facilities. Wahlberg responded by claiming that he was "all-natural" when asked by TMZ.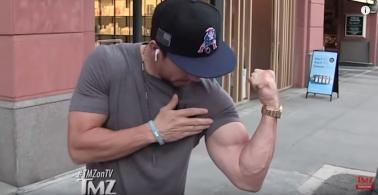 "All natural baby. All the time!" Wahlberg told TMZ. "That's hard work! If you want to do something baby, you gotta work hard. You got to make yourself an example."
A representative for Wahlberg said the allegations were "completely false" while individuals close to Wahlberg have insisted that Wahlberg never used steroids.
Wahlberg has been followed by rumors of anabolic steroid use ever since he gained popularity as the rapper Marky Mark of the group Marky Mark and the Funky Bunch in the 1980s and 1990s. His physique has longed looked like it may have benefited from the use of steroids but Wahlberg has consistently denied it. And so far, there has never been any real evidence to suggest otherwise.
Richard Rodriguez, the majority owner of Wellness Fitness and Nutrition (WFN) and its associated brand of anabolic steroids until he was arrested for steroid trafficking, claimed that he has the smoking gun linking Wahlberg to steroid use as a customer of WFN. Rodriguez was arrested as the leader of a nine-person steroid trafficking organization in February 2017.
Rodriguez recently decided to reveal the names of many of his celebrity customers in the entertainment inndustry and the professional sports world. He teamed up with self-described filmmaker Jonny Bravo to sensationalize the release of the name one by one. Of his 14,000 clients, Rodriguez claims that dozens of them were Hollywood actors, professional wrestlers, NBA players, politicians, law enforcement officers and various other famous and/or powerful people.
Rodriguez, in a phone interview with Jon Bravo from the Brooklyn Detention Center, identified Wahlberg as one client that was particularly adept and shipping steroids to different countries under aliases such as "a doctor's name" or a "female's name". In reality, the steroids were intended for Wahlberg's own consumption according to Rodriguez.
"This is an individual that's very well-known and will help me in extending into a market that I'm very interested in," Rodriguez told Bravo. "The individual's name is Mark Wahlberg.
"He used to get creative with ways in which to ship the particular products to certain countries and areas where we can receive the products — but not necessarily under his name."
Rodriguez claimed that WFN was doing so well that he had the luxury of picking and choosing his clients. And even though Wahlberg was an A-list Hollywood celebrity, Rodriguez found him to be too demanding and decided to cut off Wahlberg.
"[Wahlberg] was a really good person, but as it started to get more in-depth — our relationship — he just started to become a little bit more demanding. I just chose to — once I started to see his true colors — to sever my ties."
Source:
TMZ. (January 22, 2018). MARK WAHLBERG: Denies Steroid Story 'ALL NATURAL, BABY'. Retrieved from tmz.com/2018/01/22/mark-wahlberg-denies-using-steroids-all-natural/