Dallas Seavey, the four-time winner of the Iditarod Trail Sled Dog Race in Alaska, has been cleared of any wrongdoing in a dog doping scandal at the 2017 edition of the famous dog race. Seavey was implicated after four of his dogs tested positive for the prohibited pain medication tramadol (Ultram).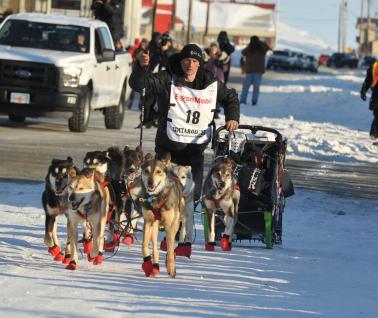 Seavey placed second at the 2017 Iditarod XLV. His dog-sled teams have won the race on four previous occasions in 2012, 2014, 2015 and 2016.ÂÂÂ  He finished less than 3 hours behind the winner in a total race time of 8 days, 6 hours, 24 minutes and 31 seconds. The winner of the race just happened to be his father, Mitch Seavey.
Seavey finished the 2017 race with seven dogs. Four of those seven dogs tested positive for high levels of tramadol in post-race anti-doping tests. The anti-doping violation was the very first since the IditarodÂÂÂ  introduced drug testing in 1994.
Seavey vehemently denied giving his dogs any banned substance. He believed that he was most likely the victim of sabotage by one of his competitors and/or their associates. Seavey believed that the high levels of tramadol suggested the drug was administered by the saboteur after the race concluded.
Seavey was not disqualified or suspended from future competition as a consequence of the anti-doping violation. Seavey got to keep all of the prize money and retained eligibility to compete in future Iditarod races.
The Iditarod Trail Committee (ITC) anti-doping policy requires that organizers prove doping "intent" by mushers. Ambiguous provisions in the policy placed the burden of proof on the organizers. The ITC was unable to prove Seavey's culpability in administering tramadol to his dogs.
Nonetheless, the ITC board or directors released a statement in which they formally apologized to Seavey on December 4, 2018. ITC Board President Mike Mills cleared Seavey of any blamed in the tramadol doping scandal.
"We regret the delays in resolving this matter and want to make clear that we do not place blame on Dallas regarding the circumstances surrounding the positive drug test of his four dogs in 2017," according to Mills. "On behalf of the ITC, I apologize to Dallas for any negative publicity and damages this situation has caused him." 
The Iditarod Trail Sled Dog Race is the most famous dog-sled race in the world. The race has taken place annually since it began in 1973. The mushers lead a team of 16 dogs over a distance of 1,000 miles. The race usually starts in Anchorage, passes through the Iditarod ghost town and finishes in Nome.
Source:
Iditarod Trail Committee. (December 4, 2018). ITC Board of Directors and Dallas Seavey Move Forward. Retrieved from d3r6t1k4mqz5i.cloudfront.net/wp-content/uploads/2018/12/12.4.18_ITC_ITC-BOD-Seavey-Joint-Release.pdf