Lebakeng Sesele, an unsponsored 28-year old 100-meter and 200-meter sprinter for South Africa, recently tested positive for two anabolic steroids. Sesele was suspended for a four-year period of ineligibility.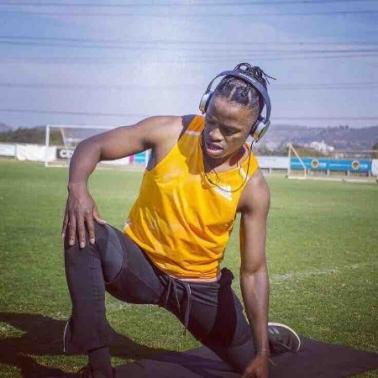 The International Association of Athletics Federation (IAAF) Athletic Integrity Unit collected a urine sample from Sesele during an unannounced out-of-competition visit in Pretoria, South Africa on November 12, 2017.
The sample was sent to the WADA-accredited Institute of Biochemistry laboratory at the German Sport University in Cologne, Germany. The Cologne laboratory found metabolites of dehydrochlormethyltestosterone (Turinabol) and trenbolone. Both Turinabol and trenbolone are performance-enhancing drugs prohibited at all times under the World Anti-Doping Code (WADC).
Sesele promptly provided an explanation for his use of steroids.
Sesele admitted to using a trenbolone and Turinabol stack to rehabilitate a hamstring tendon injury sustained on September 7, 2017.
Sesele resorted to self-medicating with steroids because he was a broke college student at the Tshwane University of Technology in Johannesburg who could not afford to pay for professional medical assistance.
Sesele admitted injecting 1-milliliter of both trenbolone and Turinabol per week for a period of four weeks. Sesele knew that both anabolic steroids were banned.
But since Sesele was not competing, he did not think he was "cheating" by injecting steroids. Sesele had no intentions of using the steroids to gain an advantage over other athletes.
Sesele originally claimed that he purchased the Turinabol and Trenbolone from an internet steroid source. However, Sesele later contradicted himself when he testified that he obtained the steroid injections from a local drug dealer named Chris.
Sesele asked for leniency and requested a two-year suspension. The IAAF rejected Sesele's request citing the inconsistencies and contradictions in his explanation for the anti-doping rule violation (ADVRV).
Sesele's suspension started on November 12, 2017 until midnight on November 11, 2021. Sesele will be permitted train with his teammates once again after two years.
The timing of the suspension could not have been worse. Sesele had just been invited to represent South Africa at the 2018 Commonwealth Games in Gold Coast, Australia between April 4, 2018 and April 15, 2018.
It was the first time in 10 years training and competing that he was ever asked to represent his country in international competition. Sesele maintained that he only used steroids to help him recover so that he would not miss the biggest opportunity of his career.