Tampa Bay reliever Alex Colome was suspended for 50 games without pay for violating Major League Baseball's Joint Drug Prevention and Treatment Program on March 24, 2014. The Office of the Commissioner of Baseball revealed that Colome tested positive for the anabolic steroid boldenone during a random drug test.
Boldenone is the active ingredient in the injectable steroid preparation most commonly known as Equipoise. The Food and Drug Administration (FDA) has never approved boldenone for human use. It has been marketed worldwide as a veterinarian pharmaceutica for use in horses. However, athletes and bodybuilders have long enjoyed using boldenone either alone or stacked with other steroids. The effects of boldenone have been described as comparable to Deca Durabolin (nandrolone decanoate).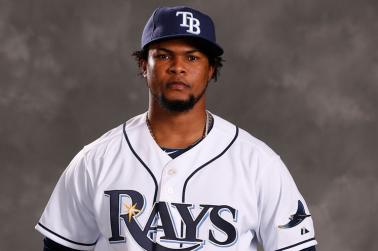 Colome is the first Major League Baseball (MLB) player to test positive for anabolic steroids since the San Diego Padres' Yasmani Grandal tested positive for testosterone on November 7, 2012. (Alex Rodriguez and sixteen other players were suspended in connection the Biogenesis of America steroid scandal last year but none of the players actually failed steroid tests.)
Colome's steroid positive continues the disturbing trend of Hispanic baseball players disproportionately being suspended for the use of steroids and performance-enhancing drugs (PEDs).
Sports writer John Shea, in a 2012 article for the San Francisco Chronicle, reported the clear majority of suspensions between 2005 and 2012 involved players born in Latin America.While 24 percent of MLB players were born in Latin America, they accounted for 62 percent of suspended players during the same period. Furthermore, the majority of players suspended in connection to the Biogenesis scandal were also of Hispanic descent.
There have been several explanations for the wild disparity of steroid and PED suspensions affecting this group.
These include the hypothesis that "random testing" isn't really so random; in other words, Hispanic players are targeted for testing.
Another hypothesis suggests that the ease of obtaining steroids in Latin American countries, where they are often available over-the-counter, increases the likelihood of use by prospective baseball players.
And yet another hypothesis speculates that Latin American-born players are more likely to be born into extreme poverty; the economic conditions changed the risk-reward ratio when it comes to using steroids to escape poverty.
There has been no definitive answer to the disparity. The questions remain:
Do a higher percentage of Latin American-born players use steroids and other PEDs?
Or are Latin American-born players just more likely to be targeted?
Source:
Jaffe, J. (March 24, 2014). Rays' Alex Colome gets 50-game steroids suspension. Retrieved from //mlb.si.com/2014/03/24/alex-colome-gets-50-game-steroids-suspension/