Taris Jackson founded "Truth in Fitness" as a "fitness lifestyle platform company" dedicated to promoting a holistic and natural approach to bodybuilding and fitness. Jackson believes the consumption of whole foods is key but this also means that anabolic steroids and all performance-enhancing drugs (PEDs) should be avoided.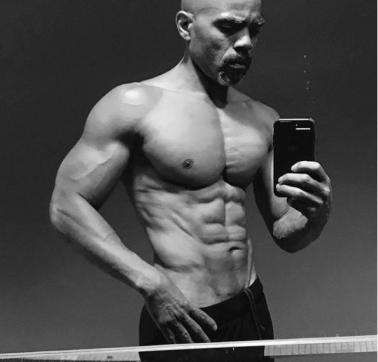 Jackson is a 51-year old bodybuilder who has previously competed in the Men's Physique division of the National Physique Committee (NPC). Jackson placed 4th in the Masters Over 45 Class D at the 2016 NPC Teen Collegiate & Masters National Chmpionships.
Jackson was somewhat of an oddity as an NPC athlete who didn't use any type of PED. He eventually joined the World Natural Bodybuilding Federation (WNBF).
Jackson is currently on a mission to convince more bodybuilders to follow his lead and abstain from steroids. And what better way to convince people to avoid steroids than to have them sign an abstinence pledge. We all know how well the Chastity Pledges and Virginity Pledges have worked to reduce premarital sex. (Actually, not at all.) So why not have a Steroid Abstinence Pledge too.
Abstinence pledges seem to be very popular among teenagers and their parents. The Truth in Fitness "Team of Naturals Pledge" is no exception. Jackson reported that hundreds of parents and their children have signed the pledge.
"I stand with Truth in Fitness to remain performance drugs free or stop using performance drugs," stated the pledge. "If I had a substance history… it's over. I declare, natural performance will remain, my lifestyle choice. I will continuing (sic) or become truthful & move forward. I PLEDGE to set a (sic) example with my natural lifestyle & competitive sports."
Jackson is seeking corporate sponsors for his Truth in Fitness project. And so far, he's recruited a couple of heavy hitters. The 700-club gym chain LA Fitness is listed as a sponsor on The Truth in Fitness website. The 53-billion euro global supermarket chain ALDI was identified as a new sponsor by Jackson on his InstaGram account last fall.
However, the most interesting corporate sponsor is "World of Beer Woodhaven". WOB has sponsored Truth in Fitness from the beginning. The official launch event for Truth in Fitness was hosted by WOB-Woodhaven in October 2017. With a selection of over 500 different brews, WOB is an obvious fit for holistic and all-natural bodybuilders who abstain from steroids and PEDs.
Source:
Dietz, K. (January 4, 2018). Health professionals urge families to sign pledge to stay away from performance-enhancing drugs. Retrieved from clickondetroit.com/news/defenders/health-professionals-urge-families-to-sign-pledge-to-stay-away-from-performance-enhancing-drugs