Maia was the latest athlete to fail a drug test after using a supplement produced by a Brazilian compounding pharmacy.
Jennifer Maia, a Brazilian mixed martial arts (MMA) athlete competing in the women's flyweight for the UFC, has been suspended from competition for a period of six months following a failed drug test. The United States Anti-Doping Agency (USADA) announced the suspension on January 15, 2019.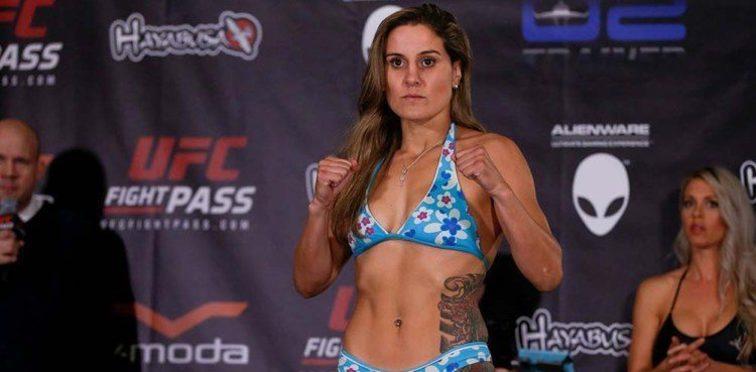 Maia did not test positive for any type of anabolic steroid. She only tested positive for diuretic medications. The following prohibited substances were found in an out-of-competition urine sample collected on August 16, 2018: furosemide, hydrochlorothiazide, chlorothiazide, and the thiazide metabolite 4-amino-6-chloro-1,3-benzenedisulfonamide (ACB).
Furosemide (Lasix) and hydrochlorothiazide are diuretics. While both can be used to treat hypertension, furosemide is primarily used to eliminate fluid build-up in cases of edema.ÂÂ 
Lasix is sometimes used by competitive bodybuilder for pre-contest preparation. Hydrochlorothiazide (HCTZ) is primarily used in combination with other blood pressure medications to treat hypertension.
A Brazilian compounding pharmacy was to blame for the contaminated supplements.
The United States Anti-Doping Agency (USADA) only penalized Maia with a six-month suspension after it determined that she did not knowingly consume a prohibited substances. Maia was the victim of a contaminated dietary supplement.
Maia was apparently using an over-the-counter weight loss supplement called "Slim Shape 7 Ervas" that reportedly contained only 7 natural herbs. None of the 7 herbs were prohibited by the UFC.
USADA independently obtained an unopened bottle of Slim Shape 7 Ervas and submitted it to the WADA-accredited Autoridade Brasileira de Controle de Dopagem in Rio de Janiero for laboratory analysis. The product also contained the unlisted drugs furosemide, sibutramine and hydrochlorothiazide.
Maia is the latest of several Brazilian MMA athletes who have been suspended after unknowingly consuming contaminated dietary supplements produced by Brazilian compounding pharmacies.ÂÂ 
Last year, Junior dos Santos Almeida, Antonio Rogerio Nogueira and Marcos Rgerio de Lima tested positive for prohibited drugs that were undisclosed ingredients (hydrochlorothiazide) in supplements they were using.ÂÂ 
Maia recently made her UFC debut at UFC Fight Night 133 in Boise, Idaho on July 14, 2018. She lost a uanimous decision against Liz Carmouche. Prior to joining the UFC, Maia departed Invicta as the undisputed flyweight champion.
Maia's suspension began retroactively on August 31, 2018. She will be eligible to compete again after February 28, 2019.
Source:
USADA. (January 15, 2019). Jennifer Maia Accepts Sanction for Violation of UFC Anti-Doping Policy. Retrieved from usada.org/jennifer-maia-accepts-doping-sanction/