Kelly Slater, an American professional surfer who won eleven World Surf League Championship titles, is apparently a big fan of mixed martial arts (MMA) and Ultimate Fighting Championship (UFC). Who knew? One person who could care less is UFC middleweight contender Paulo Costa.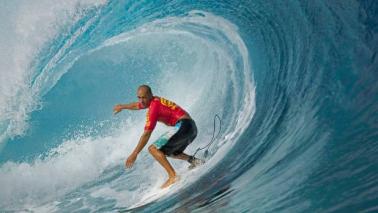 Slater was recently spotted commenting on an official UFC Instagram post about Costa. Slater essentially accused Costa of using anabolic steroids. Slater did not have any hard evidence to prove his point. He simply thinks that Costa is using steroids because he looks like he is using steroids.
"Didn't Cung Le get caught because he looked suspect in a photo after a fight?" Slater said on Instagram. "Costa makes Yoel's physique look almost attainable. If this guy ain't juiced they shouldn't bother testing at all."
Slater believed that Costa's physique was simply unattainable unless he used steroids. Cung Le and Yoel Romero are some other UFC athletes who have been accused of using steroids solely based on their physical appearance.
This type of physique profiling is not sufficient to ban an athlete. UFC and the United States Anti-Doping Agency (USADA) need hard evidence, typically in the form of an adverse analytical positive drug test, to suspend an MMA athlete.
However, physique profiling is one tool used by USADA to target specific athletes for additional and more in-depth testing. USADA and its representatives have openly admitted that they single out athletes with exceptional physiques (like Costa, Romero and Le) for "targeted testing".
But even with the targeted testing, USADA has not been able to catch Costa using steroids. This fact is frequently highlighted by Costa. Costa responds to accusations by pointing out that he is the most frequently tested UFC athlete who has passed a total of 19 drug tests administered by USADA.
When asked about Slater's comments, Costa dismissed him as an ignoramus.
"Kelly Slater talked too much, said stupid things," Costa told MMA Fighting. "He doesn't understand how the anti-doping system works in the UFC, he doesn't know how USADA works, doesn't understand the USADA policy of testing any fighter at any moment anywhere in the world, blood and urine. We do random tests all the time, so if someone says a UFC fighter is fighting on the juice, to me that someone is completely ignorant about MMA, UFC, antidoping and USADA."
Source:
Holland, J. (July 18, 2018). Paulo Costa is not using steroids so surf legend Kelly Slater and his 'stupid' opinion can go spit. Retrieved from mmamania.com/2018/7/18/17587786/paulo-costa-not-using-steroids-so-surf-legend-kelly-slater-stupid-opinion-can-go-spit