UFC Middleweight Uriah Hall is Angry at USADA Fucks and Steroid-Using Dickheads
Uriah Hall, a mixed martial arts (MMA) athlete who competes in the middleweight division for Ultimate Fight Championships (UFC), wants everyone to know that it is not a good idea to wake him up early in the morning. But this is exactly what Doping Control Officers with the United States Anti-Doping Agency (USADA) decided to do in the wee morning hours of November 20, 2017.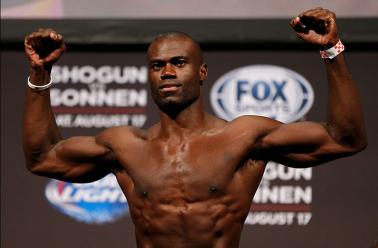 Uriah Hall recounted his feelings over the incident in a since-deleted Instagram post. Hall shared his anger and frustration in a profanity-laden rant in which he called steroid users 'dickheads' and called doping control officers "fucks".
"Fuck you USADA," Hall wrote on Instagram. "Fuck you, fuck you, fuck you for waking me up for no fucking reason. I'm sick of all these steroid using dick heads that make people like me have to suffer!"
As part of the UFC agreement with USADA, all UFC athletes are in a drug-testing pool subjected to random, unannounced testing both in and out of competition. USADA doping control officers can show up unannounced at a UFC athlete's house at any time of day between 6:00 AM and 11:00 PM to collect blood and/or urine samples. USADA seems to prefer to show up as early as possible in the day because the element of surprise gives them the best chance of catching a steroid-using athlete while he or she is still asleep. This gives the athlete precious little time to manipulate their samples and/or make any other attempt to avoid detection.
UFC athletes are required to notify USADA of their whereabouts every day of the year so that Doping Control Officers will always know where to find them. This type of invasion of privacy has not been popular among athletes. Yet it has eventually become accepted as standard practice over athlete objections.
Hall's anger is understandable although it probably was not the best idea to publicly lash out at USADA. Hall recognized this poor decision and promptly deleted the post. But not before it was immortalized by various followers who captured screenshots of Hall's profanity-filled Instagram rant.
Hall is scheduled to fight against one of the UFC's most infamous steroid users Vitor Belfort at UFC Fight Night in St. Louis on January 14, 2018. We'll see how Belfort responds to being referred to as a steroid-using dickhead.
Source:
Haynes, A. (November 20, 2017). 'F*ck You, USADA': Uriah Hall is 'Sick of Steroid Using D**kheads' Impacting his Life. Retrieved from mmanews.com/fck-you-usada-uriah-hall/