Amanda Ribas, a Brazilian mixed martial arts (MMA) athlete who competes in the strawweight category for Ultimate Fight Championships (UFC), has been suspended for two years after testing positive for the selective androgen receptor modulator (SARM) known as Ostarine.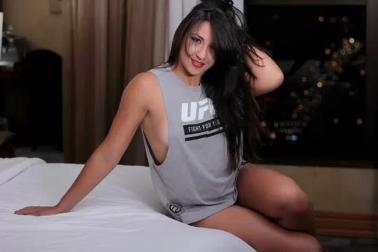 The United States Anti-Doping Agency (USADA) announced the anti-doping rule violation (ADRV) in a press released published via its website on January 10, 2018. The Ostarine positive resulted from an out-of-competition urine sample collected on June 7, 2017. The SARM Ostaine is also known by alternate names such as MK-2866 and Enobosarm.
Ribas had just been signed by UFC when she tested positive. She had been scheduled to make her UFC debut against Juliana Lima at The Ultimate Fighter 25 Finale (TUF-25) in Las Vegas on July 7, 2017. The potential ADRV resulted in the removal of Ribas from the fight card. She was replaced by Tecia Torres.
Ribas has consistently denied intentionally using Ostarine or any other prohibited substance. Ribas believed the only possible way that Ostarine ended up in her body was through a contaminated dietary supplement.
In a statement sent to MMAJunkie, Ribas revealed that she immediately collected all of the dietary supplements she was using after she was notified of a potential ADRV in June 2017. Ribas then sent the supplements to USADA for analytical testing. Ribas noted that all such testing must be done at the athlete's expense.
"After spending a lot of money on the testing of the supplements (which is paid for by the athlete)," Ribas wrote, "we were unable to find Ostarine in any of the products. However, we did find clumbeterol (sic), which also is a forbidden substance, but oddly enough, never showed up in my tests."
Unfortunately, none of the dietary supplements contained any traces of Ostarine. Interestingly, one of the supplements was contaminated with traces of clenbuterol although the fat-burning drug never showed up in Ribas urine samples.
Since Ribas was unable to prove that her Ostarine positive test resulted from a contaminated supplement product, USADA was unable to offer Ribas a reduced sanction. Consequently, Ribas was forced to accept the standard two-year period of ineligibility for a first-time anti-doping violation.
Ribas reported feeling "humiliated and victimized" by the punishment given that she never intentionally used any banned PED. She warned fellow MMA athletes to be extremely careful regarding any dietary supplement they consider using.
"I have never used anything like this in my life, and I feel extremely humiliated and victimized at being punished for something I did not do. The fact that clumbeterol appeared in one of my supplements shows the poor quality and low standards of many of the supplement products on sale in Brazil and worldwide. For sure, I used a supplement that contained traces of Ostarine, but since it never occurred to me that things like this could happen, I must have used it up and thrown it away."
Source:
Stupp, D. & Morgan, J. (January 11, 2018). UFC's Amanda Ribas 'humiliated and victimized,' warns fellow fighters after two-year suspension. Retrieved from mmajunkie.com/2018/01/ufc-amanda-ribas-failed-drug-test-usada-humiliated-victimized-supplements