Jessica Penne, a female mixed martial arts athlete who competes in the strawweight division for Ultimate Fight Championship (UFC), failed an anti-doping test administered by the United States Anti-Doping Agency (USADA). USADA confirmed that a synthetic anabolic steroid was present in her sample after numerous sophisticated analyses were performed. Ultimately, it was determined that dehydroepiandrosterone (DHEA) was the culprit.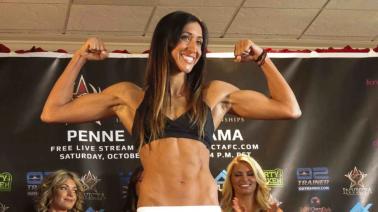 The World Anti-Doping Agency (WADA) considers DHEA an anabolic steroid no different any other oral steroid such as Dianabol, Anadrol, Anavar or Winstrol. UFC, USADA and the Tennessee Athletic Commission have both adopted the WADA Prohibited List.
DHEA may technically be considered an anabolic-androgenic steroid but any performance-enhancing benefit is generally considered to be trivial. Rarely does any athlete use DHEA to enhance their athletic performance.
USADA flagged an out-of-competition urine sample provided by Penne for testing on March 20, 2017. The sample initially passed the standard steroid screen used by USADA. However, after urinary steroidal biomarkers were compared with the Athlete Biological Passport on file for Penne, USADA became suspicious. USADA decided that abnormal variations in her urinary hormone levels warranted a further analysis. A carbon isotope ration mass spectrometry test was performed. It detected hormones of synthetic origin. As a result, the test result was changed to a potential anti-doping rule violation (ADRV).
When Penne was notified of the potential ADRV, she provided USADA representatives with a dietary supplement that was prescribed by her doctor. Penne was able to document and prove that her physician had authorized her use of the DHEA supplement. (DHEA is legally available over-the-counter in the United States.)
Unfortunately, the fact that her doctor prescribed the DHEA supplement for therapeutic reasons does not over-ride the UFC Anti-Doping Policy. The rules permit athletes to apply for a therapeutic use exemption (TUE) to use steroidal products prescribed by their doctor. But the TUE must be approved and obtained prior to using the prohibited drug(s). Penne attempted to retroactively apply for TUE for DHEA but it was too late. USADA wouldn't even grant her a TUE to use DHEA in the future.
USADA did show some leniency. USADA agreed that Penne's degree of fault was reduced because her doctor had prescribed DHEA. Penne could have been suspended for 24-months. Instead, USADA suspended her for 18-months. Penne will become eligible to compete again on October 23, 2018.
Source:
USADA. (January 5, 2017). UFC Athlete Jessica Penne Accepts Sanction for Anti-Doping Policy Violation. Retrieved from ufc.usada.org/jessica-penne-accepts-doping-sanction/