UFC Lightweight Polo "El Toro" Reyes Banned After Using Contaminated Supplement Containing Ostarine
Marco Polo "El Toro" Reyes, a Mexican mixed martial arts (MMA) athlete competing in the lightweight division of Ultimate Fight Championships (UFC), tested positive for Ostarine in violation of the UFC Anti-Doping Policy. Reyes was suspended for a six-month period of ineligibility.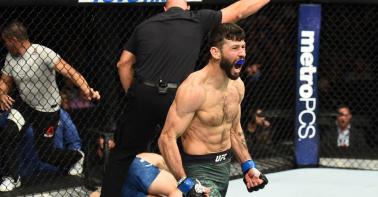 Reyes was contacted by the United States Anti-Doping Agency (USADA) to provide urine and blood samples for an unannounced and out-of-competition drug test on March 8, 2018. USADA is the organization in charge of administering and managing results for the UFC's anti-doping program.
Reyes denied knowingly using any prohibited substances after he was notified of the Ostarine positive. Ostarine belongs to a class of drugs known as selective androgen receptor modulators (SARMs). For all intents and purposes, SARMs act and behave like anabolic steroids in the human body.
"Reyes was suspended for a six-month period of ineligibility"
Reyes immediately suspected the use of contaminated supplements was the culprit for the presence of Ostarine in his body. Reyes provided USADA with two dietary supplements that he was using at the time of the failed drug test. Neither of the supplements listed any prohibited substances on the labels.
USADA independently purchased unopened bottles of the two supplements in question. These products were submitted for laboratory analysis at the WADA-accredited Sports Medicine Research and Testing Laboratory(SMRTL) in Salt Lake City. Both of the supplements used by Reyes were found to contain Ostarine as an undeclared ingredient.
Reyes could have been suspended for 4-years for a first time anti-doping rules violation if it were not for the tainted supplements. In cases of proven dietary supplement contamination, the maximum penalty is a 2-year suspension. USADA has the power to reduce the sanction even further depending on its determination of the degree of fault.
USADA concluded that Reyes did not intentionally use SARMs. Nonetheless, USADA felt he should have done more research on both the products and the manufacturer of the products. Given these considerations, USADA felt a 6-month suspension was appropriate.
Source:
USADA. (October 29, 2018). Marco Leopoldo Reyes Accepts Sanction for Violation of UFC Anti-Doping Policy. Retrieved from ufc.usada.org/polo-reyes-accepts-doping-sanction/