A Wyoming man was considered a "danger to the community" after local police and federal agents seized various oral and injectable steroids during a controlled delivery to his Riverton residence. Michael Watson was arrested after the police search his home on January 4, 2018.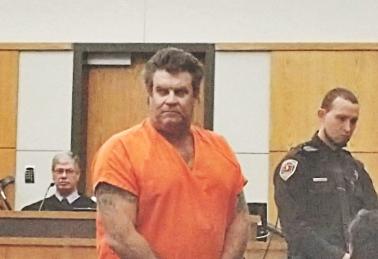 Watson was charged with one count of possession of a felony amount of Schedule III Controlled Substances in Pill Form (oral anabolic steroids) and one count of possession of a felony amount of Schedule III Controlled Substance in Liquid Form (injectable anabolic steroids).
Watson came to the attention of law enforcement officers after an inbound package from China was intercepted by agents with the United States Customs and Border Protection (CBP) International Mail Facility at the Los Angeles International Airport on December 23, 2017. The parcel's customs label identified the contents as "beauty products". This is a common technique used by international sources to deceive customs. Unfortunately, it often doesn't work very well.
In reality, the package contained 400 tablets containing 25 milligrams of mesterolone (Proviron), 400 tablets containing methandienone (Dianabol) and 16 vials of Tren-Mix 200 (a blend of three trenbolone esters: trenbolone acetate, trenbolone enanthate and trenbolone hexahydrobenzylcarbonate).
Over the next 10 days, agents with Homeland Security Investigations, Drug Enforcement Administration and U.S. Postal Inspection Service coordinated and arranged for a controlled delivery to Watson's residence on January 4, 2018. A search warrant was triggered after Watson signed for the packaged.
Prosecutors with the Fremont County Attorney's Office argued that the "sheer quantity" of anabolic steroids found in the possession of Watson qualified him as a "danger to the community." Of course, prosecutors exaggerated the significance of the seizure. In reality, the quantity of steroids seized was only enough for a couple of moderate steroid cycles. Nonetheless, Riverton Circuit Court Judge Wesley Roberts accepted prosecutors' claims at face value and set Watson's bond at $15,000 cash.
One might have felt sympathy for Watson given the charges for what amounted to little more than a personal supply. However, Watson was quick to rat out his accomplice. Watson told federal agents that his friend ordered the steroids for him and had them shipped to his address.
Watson voluntarily fingered William Klaproth as the friend who placed the order. Watson revealed that he paid Klaproth $700 for the steroid order. Once the steroids arrived, he was going to split the order with Klaproth.
Ironically, Klaproth had previously notified Watson that there was a problem with the delivery of the steroid package. Klaproth considered the package lost in transit since its delivery was delayed so long. He had asked the source for a re-shipment of the package. The source agreed to reship a second replacement delivery at no additional cost to a different address. Klaproth gave the source his own Douglas address.
Watson shared all of this information with federal agents. The police promptly arrested Klaproth as well. Watson and Klaproth each face up to 10 years in prison and a maximum fine of up to $20,000.
Source:
KTVQ. (January 8, 2018). Steroids shipment results in Wyoming charges. Retrieved from ktvq.com/story/37215666/steroids-shipment-results-in-wyoming-charges