Wyoming obstetrician Paul Michael Harnetty pleaded guilty to a single felony count of attempting to possess a Controlled Substance (anabolic steroids) in Natrona County District Court on November 14, 2017. The Natrona County District Attorney's Office recommended probation in exchange for the guilty plea.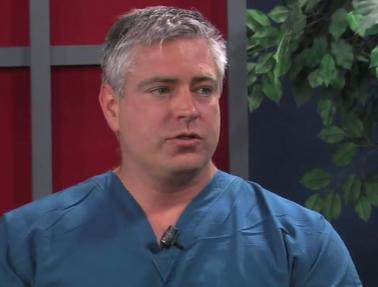 District Court Judge Thomas Sullins accepted the plea which included a suspended prison sentence, probation, court costs and the provision of a DNA sample. If Harnetty had been convicted at trial, he could have faced a maximum of five years in prison and a fine of up to $10,000.
Dr. Harnetty's involvement with black market anabolic steroids came to the attention of law enforcement officials when the medical doctor attempted to order 12 ten-milliliter vials of injectable nandrolone decanoate (Deca Durabolin) from an internet source based in Guangdon, China in April 2016. The Chinese source apparently fulfilled the order using a U.S.-based remailer to ship the parcel to Dr. Harnetty's home address.
Law enforcement officials executed a search warrant on Dr. Harnetty's residence after USPS delivered the steroid package. Police seized the Deca Durabolin vials along with personal computers, mobile phones and other evidence. Dr. Harnetty was arrested in Minnesota on January 20, 2017.
The steroid charges were trivial compared to Dr. Harnetty's other alleged criminal activities. Steroid possession is clearly a victimless crime. The other criminal charges against Dr. Harnetty are not.
Dr. Harnetty was also charged with eight counts of second-degree sexual assault and two counts of third-degree sexual assault in addition to the steroid charges on January 20, 2017. Police believe that Dr. Harnetty relocated to Minnesota from Wyoming in an attempt to avoid prosecution.
Dr. Harnetty had previously been employed by the Community Health Centers of Central Wyoming as an obstetrics and gynecology specialist. He also had privileges at the Wyoming Medical Center until his resignation in November 2015. Dr. Harnetty voluntarily relinquished his state medical license in October 2016. In exchange, the Wyoming Board of Medicine reportedly dropped its investigation of Dr. Harnetty.
Prior to living in Wyoming, Dr. Harnetty lived in Georgia where he was an obstetric and gynecology specialist with Cornerstone Medical Associates. His hospital privileges were denied for undisclosed reasons by The Medical Center of Central Georgia and Coliseum Health System. The Georgia Composite Medical Board dropped its investigation into Dr. Harnetty after he relinquished his state medical license. Dr. Harnetty was also once licensed in North Dakota and Indiana but those licenses appear to have expired.
Dr. Harnetty has pleaded not guilty to the sexual assault charges. He was scheduled to go to trial in January 2018. If convicted of all 12 criminal counts, Dr. Harnetty could be sentenced to a minimum of 16 months in prison and a maximum of 190 years in prison. Dr. Harnetty was released from jail after paying a $50,000 bond.
Source:
Morton, T. (October 19, 2017). Former Casper doctor will plead guilty to drug charge. Retrieved from k2radio.com/former-casper-doctor-will-plead-guilty-to-drug-charge/