Lance Armstrong had repeatedly been asked about director Bryan Fogel's "Icarus" documentary about the state-sponsored doping program in Russia. He finally decided to sit down and watch the documentary on Netflix. Armstrong reported being "blown away" by what he saw.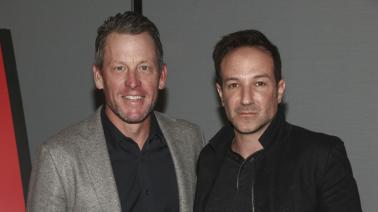 "After being asked roughly a 1000 times if I've seen @IcarusNetflix yet," Armstrong wrote on Twitter, "I finally sat down to check it out. Holy hell. It's hard to imagine that I could be blown away by much in that realm but I was. Incredible work @bryanfogel!"
Armstrong's appreciation of the film didn't stop there. As a big fan of the documentary, Armstrong agreed to co-host a screening of the documentary with author Robert Stone in New York City. "Icarus" made the Academy Award 15-film short-list in the documentary category. The varuous screenings of Icarus were intended to promote the film on the first day of Oscar nomination voting. The Armstrong-Stone hosted special screening of "Icarus" took place at 1 Hotel Brooklyn Bridge on January 6, 2018.
After the screening, Armstrong appeared on a panel with Fogel, producer Dan Cogan and moderator Philip Gourevitch. While Armstrong praised the film, Armstrong also noted that he related to the way in which the Russian doping scandal was sensationalized.
"I can relate to the way [it feels when] the press reacts to things like this and they way there needs to be that story," Armstrong said. "My situation five years ago, when [my doping use] came out, the organizations — USADA (The United States Anti-Doping Agency), WADA (World Anti-Doping Agency) — I'm not trying to criticize them, but the declarations [they made] were pretty strong: 'He's biggest fraud in the history of sport'; 'The most sophisticated doping program that ever existed' ; and 'Forcing young men to put deadly substances into their bodies.' We don't need to debate whether or not those statements are true, but those are strong statements. But underneath all of that you have a system that really doesn't work that well."
Armstrong insisted that he was not criticizing USADA for its sensationalization of his doping case. Yet Armstrong told a different story at the time. Armstrong strongly refuted the claims that he was "the biggest fraud" or that his doping was "the most sophisticated doping program that ever existed" or that cyclists were forced "to put deadly substances into their bodies". Armstrong maintain that he was simply doing what everyone else was doing. The overwhelming evidence tends to support Armstrong's account.
Armstrong's comments about "Icarus", while complimentary, may also represent a subtle criticism of how the Russian doping scandal is currently being sensationalized by anti-doping crusaders and journalists.
"I knew what was going to happen [after that]," Armstrong said. "The next day, WADA stands up and they get a commission of guys to investigate. Then nine months later they had that press conference where it's like, 'We've got 'em!' So not to condone or sympathize with [Russia], but I can relate. I certainly can relate to them."
Source:
Morfoot, A. (January 7, 2018). Lance Armstrong on Russian Doping Documentary 'Icarus': 'I Can Relate'. Retrieved from variety.com/2018/film/vpage/lance-armstrong-russian-doping-scandal-icarus-1202655940/