Raquel Yasmine Petit, a bikini model who founded PETITKINI Luxe Tanning Bikinis, has agreed to become a police informant in an Australian steroid importation and trafficking criminal case. In exchange, prosecutors have agreed to drop most of the criminal charges against her including all steroid-related offenses.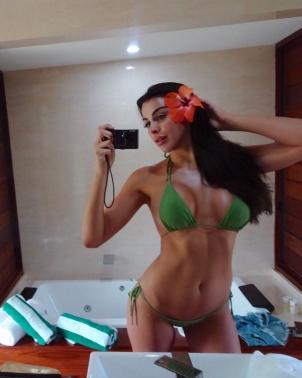 Petit was originally charged with 47 counts related to illegally importing anabolic steroids, distributing anabolic steroids and using false identity document during the commission a crime. Under her new plea agreement, Petit pleaded guilty to one count of "using a false document" and four counts of "producing a false document to a reporting agency".
Victoria County Court Judge Gavan Meredith accepted the plea agreement after reviewing the facts of the case including an affidavit Petit gave to police on October 25, 2018. The affidavit outlined the details of the steroid enterprise as it involved her co-conspirators Eden Turkovic and Paul Millan.
Judge Meredith concluded that Petit's testimony was of "substantial value" in helping the prosecutors convict Turkovic and Millan. Due to Petit's willingness to become a police informant, Judge Meredith decided to give her a stay-out-of-jail pass.
Petit undoubtedly seized the opportunity to testify against her partners-in-crime so that she could avoid going to prison. Judge Meredith pointedly told her that this was the only reason he did not sentence her to 18 months imprisonment.
Petit only played a limited, albeit important, role in the steroid enterprise anyway. Petit was in charge of opening and setting up private mail boxes and post office boxes that would be used to receive steroids imported from China and Ukraine.
In order to open the mail boxes anonymously, Petit used fake driver's licenses and other false identity documents. Petit apparently used the names of a former school mate for at least some of the fake IDs.
After Petit opened the post office and private mail boxes, Turkovic and Millan took over and use them to import steroids from overseas.
Turkovic and Millan handled all of the steroid buying, importation and distribution. They were also involved in the trafficking of recreational stimulant drugs like cocaine and methamphetamine.
Petit is scheduled to testify as a cooperating witness for the prosecution at the trial of Turkovic and Millan in February 2019.
Source:
Cavanagh, R. (November 30, 2018). Raquel Petit turns police informer in alleged drug ring syndicate case. Retrieved from heraldsun.com.au/news/law-order/raquel-petit-turns-police-informer-in-alleged-drug-ring-syndicate-case/news-story/cba52e06fca1c176665ee2d70f4d89be