Four rugby players linked to a domestic internet steroid source called NZ Clenbuterol were suspended after an investigation by Drug Free Sport New Zealand (DFSNZ). Zoey Berry, Rhys Pedersen, Glen Robertson and Ben Qauqau-Dodds were all identified as paying customers of NZ Clenbuterol in 2014 and 2015.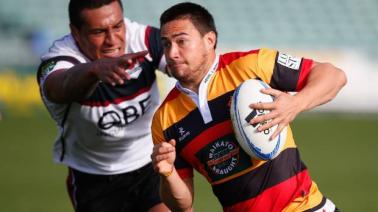 Berry, Pedersen and Robertson were slapped with anti-doping rule violations (ADRVs) for the possession and use or attempted use of the fat loss drug clenbuterol. Qauqau-Dodds was charged with an ADRV for the possession and use or attempted use of the anabolic steroid methandienone (Dianabol). The New Zealand Rugby Judicial Committee (NZ-RJC) suspended Berry and Robertson for four years. Qauqau-Dodds was suspended for two years. Pedersen was suspended for 21 months.
Clenbuterol and Methandienone are prohibited substances under the World Anti-Doping Agency (WADA) List of Prohibited Substances. The NZ Sports Anti-Doping Rules have adopted the WADA Code and incorporated the WADA Prohibited Substance List.
Neil Sorensen, the General Manager for the New Zealand Rugby Union (NZRU), seemed to suggest that apparent doping problem in rugby was a result of ignorance and lack of anti-doping education.
"What has happened to these four rugby players serves as a reminder that all athletes have to be very careful about what they put into their bodies," Sorensen said. "In partnership with the Rugby Players Association (RPA) and DFSNZ we have developed and delivered comprehensive anti doping education programmes but these are primarily aimed at high performance, professional players. What this investigation has revealed is that there is a lot of ignorance in our community game on the issue of performance enhancing drugs."
However, Sorensen acknowledged that at least two of the four banned athletes (Berry and Robertson) had received anti-doping education while representing national teams. Sorensen admitted that the education "obviously didn't get through" and that "all four of them knew it was wrong".
Berry (Black Ferns), Pedersen (Manawatu), Robertson (NZ Sevens) and Qauqau-Dodds (Otago Maori) are among at least 9 New Zealand athletes who have been suspended for ADRV due to their purchase of clenbuterol and/or steroids from NZ Clenbuterol. Other Kiwi athletes involved include: include: cricketer Chris Ware (Carisbrook Dunedin Cricket Club); cricketer Adam King (Paraparaumu Cricket Club); rugby player Adam Jowsey (Hawkes Bay Rugby Club); hockey player Mitchel Frear (Skycity Stampede Queenstown Ice Hockey Club); and hockey player Lachlan Frear (Skycity Stampede Queenstown Ice Hockey Club).
DFSNZ has revealed that as many as 80 athletes could ultimately be suspended for potential anti-doping rule violations (ADRVs) because they were customers of NZ Clenbuterol. Josh Townshend operated the NZ Clenbuterol website at Clenbuterol.co.nz.
Townshend sold as many as 2,100 ten-milliliter bottles of clenbuterol and 2,400 ten-milliliter vials of primarily injectable anabolic steroids in a single year. The annual turnover for his illicit steroid UGL was allegedly over $300,000 NZD ($206,000 USD). Townshend was sentenced to two years in prison after he pleaded guilty to 129 violations of the New Zealand Medicines Act of 1981.
Source:
Stuff.co.nz. (January 13, 2018). Doping bans could 'darken' NZ Rugby's image, says top official Neil Sorensen. Retrieved from stuff.co.nz/sport/rugby/100553845/doping-bans-could-darken-nz-rugbys-image-says-top-official-neil-sorensen