Last Defendant Pleads Guilty in Onyx Pharma Counterfeit Steroid Case
Brian Petzke pleaded guilty to one count of conspiracy to distribute controlled substances (anabolic steroids) before District Judge Nathaniel Gorton for the United States District Court in Boston on February 7, 2018. Petzke was involved in the counterfeit steroid operation that misappropriated the use of the registered trademark Onyx Pharmaceuticals to market steroid that were really manufactured in a clandestine underground laboratory (UGL).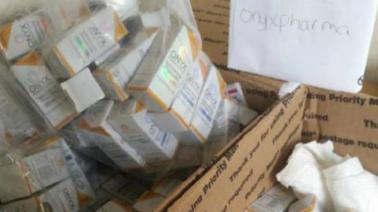 Tyler "Musclehead320" Baumann and Philip Goodwin may have been the brains behind the Onyx Pharma underground laboratory (UGL) based in Massachusetts. But the involvement of four other indicted co-conspirators was essential for the smooth operation of the illegal steroid enterprise. Petzke was essentially an employee who operated under the direction of Baumann and Goodwin.
Petzke had several responsibilities under Baumann and Goodwin. Petzke was told to pick up customer payments remitted via Western Union and MoneyGram as one of several jobs with Onyx Pharma UGL. Petzke was also told to use his address to receive international mail packages that contained raw anabolic steroid powders. But one of Petzke's most labor-intensive responsibilities fulfilling customer orders.
Petzke was given his own supply of Onxy Pharma branded steroids such as testosterone cypionate, nandrolone decanoate, oxandrolone, methandienone, trenbolone acetate, etc. Baumann would regularly send steroid orders to Petzke via text messages. The text messages included customer names and addresses along with the names of the steroids they ordered. Petzke would pick and pack the orders from his own steroid supply and ship them to the customers via the United States Postal Service (USPS). Petzke would then send the confirmation/tracking numbers back to Bauman via text message.
Petzke wasn't the primary shipper. That honor belonged to Robert Medeiros who shipped over 4,000 packages to customers under Baumann's and Goodwin's direction. Petzke wasn't the primary money collector either. Petzke wasn't really the primary anything. Petzke just did a little bit of everything for Onxy Pharma.
Petzke was the very last of the six-member Onyx Pharma conspiracy to plead guilty. The details of his plea agreement have not been released. Petzke is scheduled to appear in court for sentencing on May 8, 2018. Petzke faces a maximum of five years in prison and up to $250,000 in fines. Petzke will face far less prison time than either Baumann or Goodwin. The masterminds behind Onxy Pharma will most likely spend several years in prison.
Source:
DOJ. (February 8, 2018). Saugus Man Pleads Guilty to Role in Counterfeit Steroid Conspiracy. Retrieved from justice.gov/usao-ma/pr/saugus-man-pleads-guilty-role-counterfeit-steroid-conspiracy