Anavar Dosages
Anavar dosages can vary quite a bit depending on the individual at hand and it is not merely a variation based on sex but independent goals can also play a very large factor. Without question standard Anavar dosages will run much lower for women than they do for men but the good news for the female athlete is she is generally more sensitive to the hormone on a per milligram basis. This simply means the female user will not need as much to receive the same benefit as a man at a higher dose. Lets take a look at some of the various purposes as to why an individual might supplement with the Oxandrolone hormone and determine what the adequate Anavar dosages might be.

Anavar Dosages for Cutting:
Without question it will be cutting cycles that prove to be the most efficient time to supplement with the Oxandrolone hormone and it will prove to be the female athlete who benefits from it the most. Anavar is not only female friendly but very beneficial; so much so that many women find it is the only steroid they need. Typical Anavar dosages for a female cutting cycle will often be in the 10mg per day range and often this is all the Oxandrolone that is needed. Such a dose will aid in reducing body-fat, preserving muscle while on a calorie restricted diet and preserve it as well while under strenuous activity such as training. Further, the physique will appear harder, tighter and all-in-all carry and possess a more pleasing look. Anavar dosages for the female athlete can go higher, 20mg per day is not uncommon and can prove to be effective; however, while this hormone is generally well-tolerated some women may begin to show signs of virilization at such a dose. Before any woman increases total Anavar dosages beyond the 10mg range she should be comfortable at this initial dose and creep up in 5mg marks before making a full jump to 20mg per day.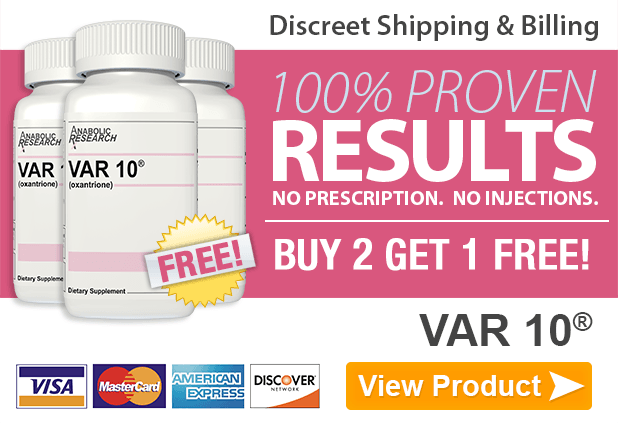 For the male athlete looking to lean out Anavar dosages will be much higher than a womans and will typically start at 50mg per day. Yes, smaller doses can be used but 30mg will prove to be the minimum and for many will not be that effective; 50mg per really should be your standard. While 50mg will work 80mg will prove to be far more effective and in almost all men generally side-effect free. It should be noted, while women will often receive solid benefits from this steroid alone most men will find it better served as part of a stack and never as a foundational anabolic steroid. For the gym rat looking to tighten up for the beach this can be a fine steroid of choice but in most other cases where the look of a physique is concerned such as in competitive bodybuilding, most will find other alternatives to be far more efficient.
Anavar Dosages for Bulking:
For the male athlete in his bulking season the Oxandrolone hormone is generally reasoned to be a poor choice as it is not well-suited for large buildups in mass. Make no mistake; it can build lean tissue just not to any significant degree. To receive any reasonable gain in size through the Oxandrolone hormone while bulking most men are going to need 80mg-100mg per day to receive any such benefit and when we consider the price of this hormone such Anavar dosages prove to be very inefficient on a price to benefit ratio.
For the female athlete we can make an exception as this can be a fairly decent bulking agent; as you recall women are more sensitive to the hormone. No, it will more than likely not put on piles of lean tissue but it can with enough calories present in the diet bring about a nice lean tissue gain. Further, as water weight is of no concern with this steroid every last pound of tissue gained will be that of 100% pure lean muscle mass. As was with cutting Anavar dosages 10mg per day will be the place to start; if the woman really wants to put on some size 20mg may prove to be fine here but she needs to have a good understanding of how her body reacts first before attempting such a dose. Further, as Anavar dosages are so low for most women, while the hormone isnt cheap, because they need so little it proves to be much more efficient on a price to benefit ratio.